Sheikha Asma does it again, sets record atop Pakistan's Mt K2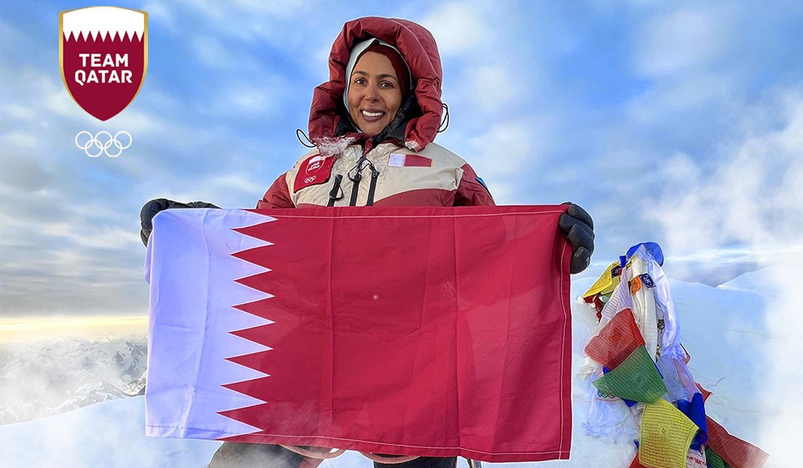 Sheikha Asma bint Thani Al Thani
Qatari mountaineer Sheikha Asma bint Thani Al-Thani has scaled another height and made history as the first Arab to scale six of the 8000er mountains in the world. 
This time, she has reached K2's summit in Pakistan which stands at 8,611 metres, the second highest in the world.  K2 is widely considered to be the world's toughest and most dangerous mountain climb. Only around 400 people have completed it.
As she shared photos of the climb on Instagram, Sheikha Asma captioned: "I took the last steps on the slopes towards K2's Summit. An adventure a couple of years back I never thought would be possible."
Comments of support and congratulations poured out in the comments section as she ended her post by expressing gratitude to the people who were a part of her journey. 
"This goes out to all the dreamers who have a dream bigger than themselves. #BeyondBoundaries is more than just climbing mountains. It's about inspiring others and showing how the impossible is possible if you move forward with conviction and passion," she said.
"Thank you to all who have helped me push a little higher and go a littler higher," Sheikha Asma concluded.
Last month, Sheikha Asma scaled Mount Denali located in the Alaska Range. This brings her closer to achieving the Explorers Grand Slam which involves climbing the seven summits and reaching the North and South Pole. The Qatari mountaineer is left with only one mountain to conquer to achieve this goal.
Sheika Asma began this journey in 2014 when she summitted Mount Kilimanjaro. This was followed with her adventure to North Pole in 2018 and scaled Aconcagua the next year. In 2021, Sheikha Asma also reached the top of Elbrus and scaled Mount Vinson in January this year. From there she also skied to the South Pole Last Degree. In May 2022, Sheikha Asma also set foot on the world's highest peak, the mighty Mount Everest.