Sheikha Asma Al Thani becomes first Qatari woman to scale Mt Everest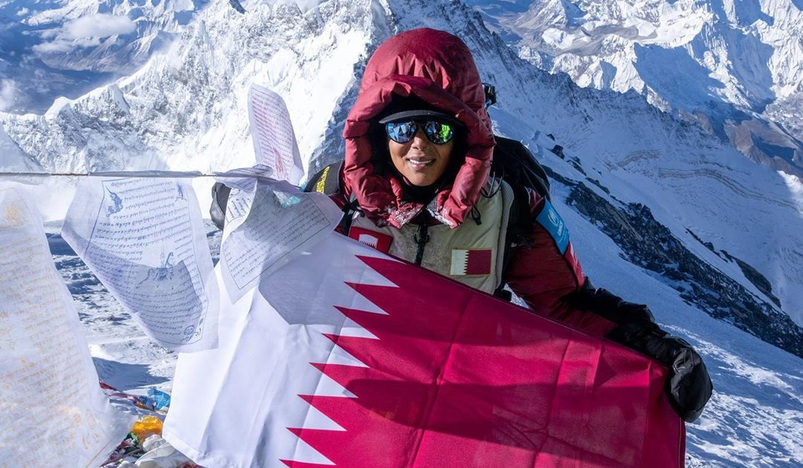 Sheikha Asma Al Thani
Qatari royal family member Sheikha Asma Al Thani, today scaled the world's highest peak becoming the first Qatari woman to climb Mt Everest.
Along with the record-holding climber Nirmal Purja (Nims Dai), Al Thani stood at the roof of the world as part of her drive to inspire women and young people in the region to challenge stereotypes and fulfill their dreams.
 With her success on Mt Everest this morning, the 32-year-old woman climber aims to complete the Explorers Grand Slam -- a challenge to reach both North Pole, South Pole, and climb all the Seven Summits (Everest, Aconcagua, Denali, Kilimanjaro, Vinson, Puncak Jaya, and Mount Elbrus). Al Thani has already completed three of the nine Explorers Grand Slam challenges, as she became the first Qatari to ski the last degree to the North Pole in 2018 and to summit Aconcagua in 2019.
"What a season on Everest! And what a great way to end it. I am so proud of all the team members who attempted their highest feat! Pushing through their limits to achieve their new possible. Congratulations to the whole team who summited Everest today! Everyone is back at the South Cole safe and warm. And as I always say 100% summit success to all who have left from camp 2! ," Nims Dai posted on Facebbok after scaling Mt Everest.
"Al Thani has also become the first Arabic woman to summit Kanchenjunga as she scaled the world's third highest peak on May 7," Nims Dai said.
Al Thani was among the first group of Qatari women to summit Kilimanjaro in 2014. She is also the first Qatari woman to summit Vinson Massif, Antarctica's highest mountain. "In September last year, she also became the first Arab to summit Mt Manaslu without the use of suplemental oxygen."
Al Thani is a major advocate of female empowerment in the Middle East and has significant influence within the Qatari, regional, and international sports, and is a senior female official in the Qatar Olympic Committee.