Sheikh Thani bin Hamad Honors Winners of Sheikh Hamad Award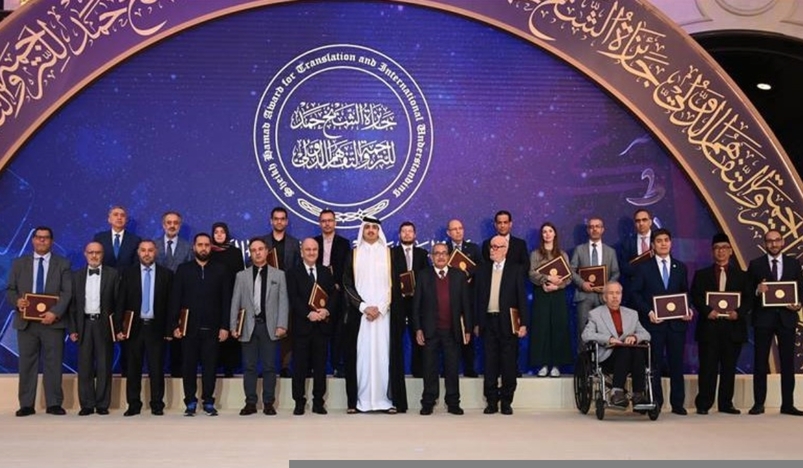 Sheikh Thani bin Hamad Honors Winners of Sheikh Hamad Award
On behalf of HH the Father Amir Sheikh Hamad bin Khalifa Al-Thani, HE Sheikh Thani bin Hamad Al-Thani honored the winners of the Sheikh Hamad Award for Translation and International Understanding in a ceremony held at the Ritz-Carlton Hotel on Sunday evening.
The ceremony brought together a number of Their Excellencies sheikhs and ministers and a number of members of diplomatic missions accredited to the State of Qatar, along with the ceremony's guests of writers, translators and researchers.
For the category of translation from Arabic into Turkish, Muhittin Majid won the first place award for translating Ibn Rushd's Metaphysics. The second-place award was shared by Mohammed Amin Mashali and Montaha Mashali for translating Taha Abdul Rahman's Spirit of Modernity and Numan Qawqli for translating Mohammed Abed Al Jabri's Intellectuals in the Arab Civilization.
The third-place award was also shared by Osman Baydar and Akdag for translating Maimonides' The Guide for the Perplexed and Suner Duman for translating Ibn Taymiyyah's Treatise on Juridical Politics.
In the category of translation from Turkish into Arabic, Saleh Saadawi came first for translating Muhittin Serin's History of the Art of Calligraphy, and Haval Dukmaq came third for translating Ibrahim Kalino's Modern, Civilized Barbarian, while the second place award was withheld.
For the category of translation from Arabic into English, William Hutchence won the first place prize for translating Muhammad Hassan Alwan's Small Death, and Leary Price came third for translating Samar Yazbek's Al Masha'a (The Woman who walks), while the first place was withheld.
In the category of translation from English into Arabic, the second place award was shared by Muhammad Abdel Salam Hamshi for translating Populism and World Politics: Exploring Inter- and Transnational Dimensions by David McDonald and others, and Ayman Haddad for translating Norman Finkelstein's Gaza: An Inquest into its Martyrdom. Mustafa Muhammad Abdullah Qassem came in third place for translating Joseph Manning's The Open Sea, and Amer Sheikhoni for translating Diana Darke's Stealing from the Saracens: How Islamic Architecture Shaped Europe. The first place award was withheld. (QNA) In the Achievement Category, HE Sheikh Thani bin Hamad Al-Thani honored the Arab Network for Research and Publishing from Lebanon for their translations from English into Arabic, and Turkey's Insan Yayinlari and Mana Yayinlari for their translations from Arabic into Turkish and vice versa. His Excellency also honored translators Muhammed Haqi Sotshin, Burhan Koroglu from Turkey, Mohammed Harb, Abdullah Ahmed Ibrahim Al Azab from Egypt, Nicola Dobrishan and George Gregory from Romania, Ikhtiyar Balturi from Kazakhstan, and Abdul Al Hay Al Katani from Indonesia. Muhammad Mansour Hamzah was honored in the dictionaries category - Bahasa language.
His Excellency also delivered a number of encouragement awards to the Association of Muslim Scholars in Tanzania - Swahili language, Dar Al Karma (Egypt), Tamer Institute for Community Education, and the Egyptian translator Ahmed Shukri Mujahid.
Source: QNA