Sheikh Joaan Praises Fares Ibrahim's Accomplishment of Qatar's First Olympic Gold Medal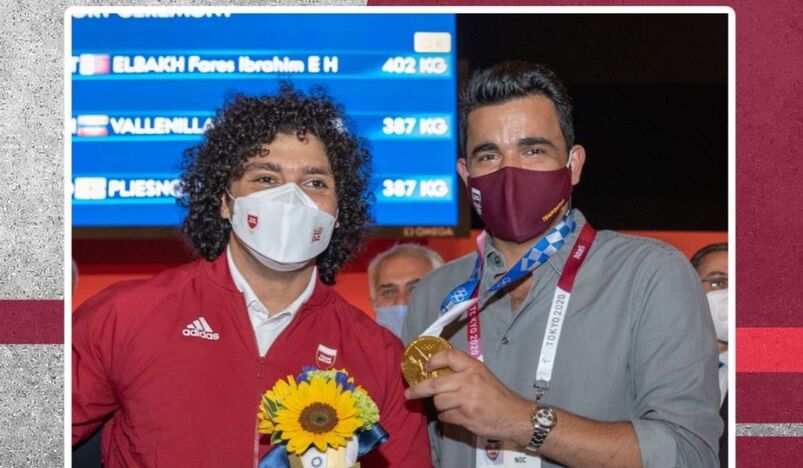 HE President of the Qatar Olympic Committee Sheikh Joaan bin Hamad Al-Thani (Right) with Qatar's weightlifter Fares Ibrahim
 HE President of the Qatar Olympic Committee (QOC) Sheikh Joaan bin Hamad Al-Thani dedicated the historic achievement of weightlifter Fares Ibrahim, claiming Qatar's first Olympic gold medal, to HH the Amir Sheikh Tamim bin Hamad Al-Thani, HH the Father Amir Sheikh Hamad bin Khalifa Al-Thani and the Qatari people.
On this occasion, HE Sheikh Joaan said, "This unprecedented accomplishment is a result of the joint efforts made by team Qatar's golden weightlifter Fares Ibrahim, his coaching staff and the Qatar Weightlifting and Fencing Federation."
HE the QOC President also lauded the huge efforts made by everyone to make this achievement possible and to raise Qatar's flag at this mega sporting event.
HE Sheikh Joaan bin Hamad Al-Thani outlined that this achievement came in tune with a new Olympic record that proved the amazing talent of Qatar's young athlete Fares Ibrahim. He wished greater achievements for him in the future.
HE the QOC President stressed this medal is the sixth in the countrys Olympic history and the first ever gold medal for Qatar, wishing the best results for the team Qatar athletes in the upcoming competitions of Tokyo 2020 Olympics.
For his part, Fares Ibrahim expressed his delight with the call of HH the Amir after winning the gold medal, stressing that HH the Amir's call represents a badge of honor and an incentive to achieve more accomplishments in the upcoming tournaments and raise the flag of Qatar in international forums.
Ibrahim underlined that winning the gold medal in the 2020 Tokyo Olympics represents a great achievement for him, and dedicated this achievement to Qatar and the Qatari people, and to everyone who contributed to his win.
He noted that the competition was very strong and difficult, but good work and planning contributed to enter the Olympic competition in the best possible way, adding that the success is the culmination of a hard work that spanned more than four years.
Fares Ibrahim claimed the gold medal in the 96kg category at Tokyo Olympics, lifting a total weight of 402kg in a new Olympic Record. (QNA)