Sheikh Joaan bin Hamad Lauds Barshim Historic Achievement at Tokyo 2020 Olympics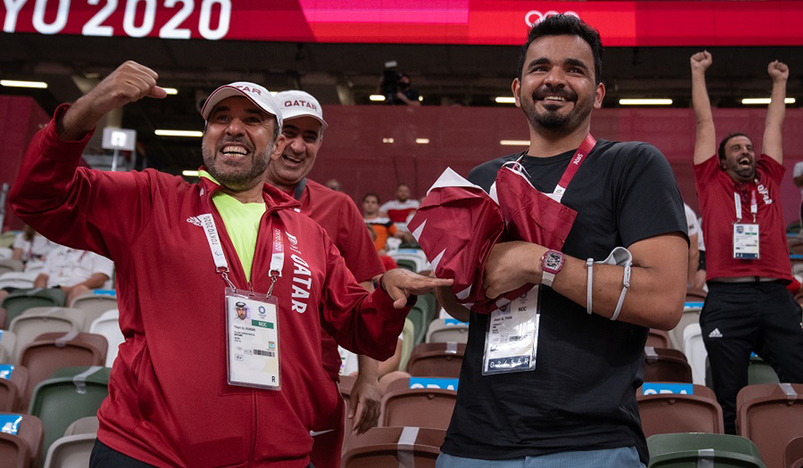 Sheikh Joaan bin Hamad Al-Thani
HE President of Qatar Olympic Committee (QOC) Sheikh Joaan bin Hamad Al-Thani congratulated HH the Amir Sheikh Tamim bin Hamad Al-Thani, HH the Father Amir Sheikh Hamad bin Khalifa Al-Thani and the Qatari people on the historic achievement of Qatari and world Olympic champion Mutaz Essa Barshim who won the gold medal in the Mens high jump at the Tokyo 2020 Olympic Games on Sunday.
By this glorious victory, Qatar has secured its second historic Olympic gold medal, one day after weightlifter Fares Ibrahim brought the countrys first ever Olympic gold in Mens 96kg category.
HE Sheikh Joaan bin Hamad Al-Thani applauded the significant support of the HH the Amir to the Qatars sport movement, which remains a motivating factor behind this unique success of Qatari athletes.
HE the QOC President also congratulated the countrys superstar Mutaz Barshim and appreciated his persevere and hard work, which together paid off a mazing gold medal in Tokyo 2020 Olympics to be added to his previous bronze medal in London 2012 Olympics and Rio 2016 Olympics.
HE QOC President said that this achievement has further showcased the talent of the Qatari superstar and his upper hand in the high jump at the world level.
HE Sheikh Joaan appreciated the efforts of the Qatar Athletics Federation in boosting the countrys athletics movement to a new standard of success at the different international arenas. HE also lauded the role of Aspire Academy in building and developing the talent of Mutaz Barshim since his early years.
"Qatars ninth participation in the Olympics was outstanding and impressive by all standards of success, in which athletes left no stone unturned to honor our sport movement perfectly at this bigger sport event," HE President of Qatar Olympic Committee (QOC) Sheikh Joaan bin Hamad Al-Thani stressed.
(QNA)