Sheikh Joaan bin Hamad crowns winners of QOC Ultimate Race 2022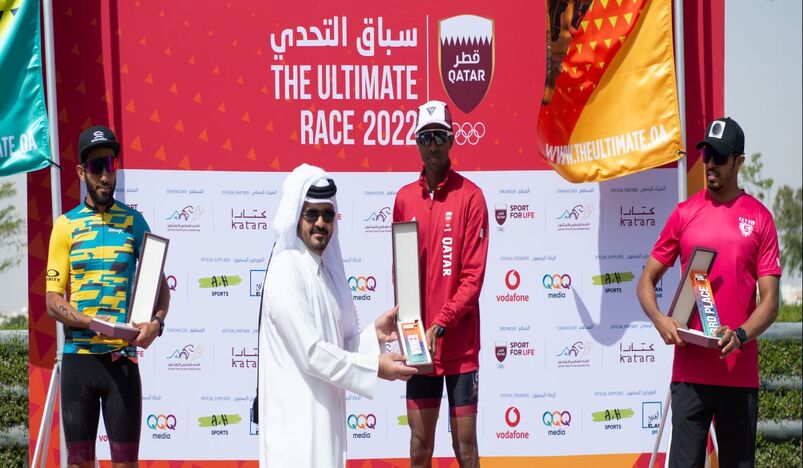 Sheikh Joaan bin Hamad Al Thani, Qatar Olympic Committee (QOC) President crowned the QOC Ultimate Race 2022 winners at Katara yesterday
H.E President of the Qatar Olympic Committee (QOC) Sheikh Joaan bin Hamad Al-Thani crowned the winners of the first edition of the QOC Ultimate Race 2022 held at the Cultural Village Katara on Saturday.
The men's event was won by Mohamed Al Sabagh of Canada ahead of Spain's Aday Alvarez and Morocco's Aziz Haddaj who placed second and third, respectively.
The medal ceremony was attended by H.E QOC Secretary General Jassim bin Rashid Al-Buenain, QOC President Mohamed bin Jeham Al-Kuwari, QOC Secretary General Thani Khalifa Al Zaraa, and Event Director Sheikh Suhaim bin Mohamed Al-Thani.
 A number of triathlon enthusiasts in the state of Qatar and the region were also in attendance.
As for the women's event, it was won by Rebecca Page, followed by Andrea Stadler in second, and Adeline Cormary in third; the youth duathlon was won by Mathews Wilson, followed by Akshith Saravanan and Dani Fadli.