Seven New Experts Take Legal Oath at Ministry of Justice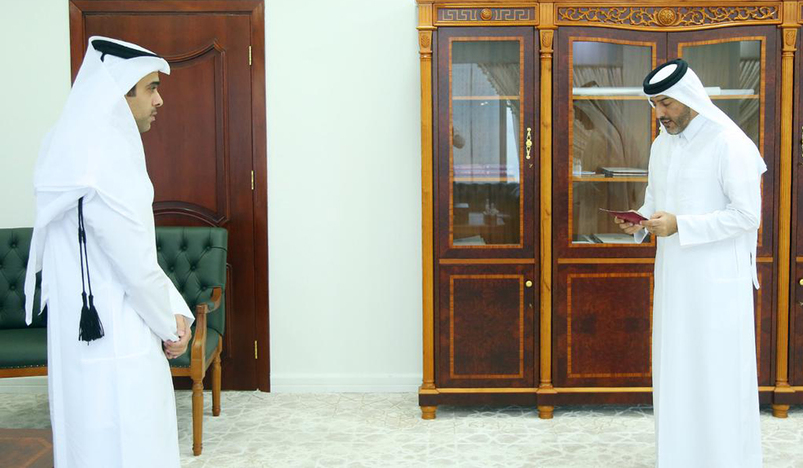 Legal Oath
Seven new experts took the legal oath at the Ministry of Justice as experts accredited to the judicial authorities in the country in accordance with the regulations stipulated by Law No (16) of 2017 regulating expertise work, following the issuance of HE the Minister of Justice's decisions authorizing them to provide expertise according to the specified fields.
The Ministry explained in a statement that the areas of expertise for which permission was granted to the seven new experts include real estate valuation, information, accounting expertise, banking, medical and veterinary services.
Assistant Undersecretary at the Office of the Minister in charge of the tasks of the Assistant Undersecretary for Legal Affairs, Ahmed Hassan Al Kuwari, expressed his confidence that this batch of experts will provide specialized and accurate expertise, and will constitute a new addition and a qualitative shift in the work of expertise, and enhance the efforts of the judiciary within the vision of the wise leadership to consolidate the prompt Justice.
Al Kuwari stressed the Ministry of Justice's keenness to encourage Qatari expertise from those with precise and rare specialties that meet the needs of society and the requirements of the judiciary, which will contribute to upgrading the legal services provided by the ministry.
The Ministry of Justice is working on preparing and qualifying national cadres and expertise in various fields of expertise, and is working on attracting those with rare expertise to enhance the efficiency of the work of expertise in the judicial authorities, and provide the necessary technical expertise in various fields and specialties, in order to achieve the objectives that the ministry seeks for the legal system by providing expertise to keep pace with the comprehensive development that the state is witnessing in all fields.
(QNA)