Setting Up a Field Lab for Construction Materials Testing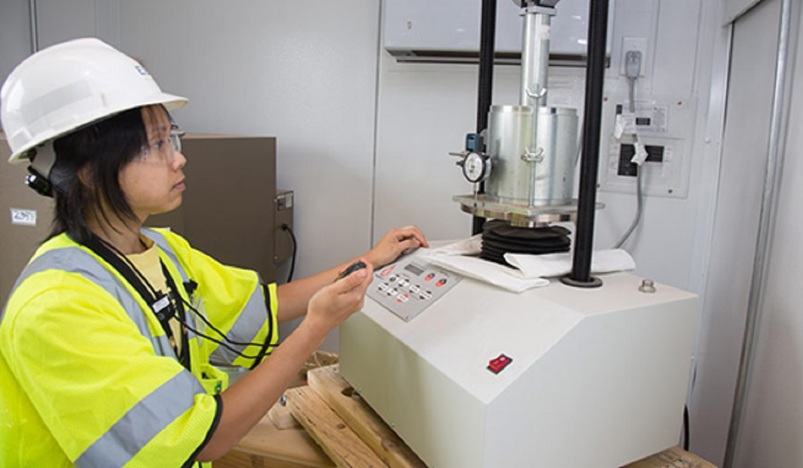 Field Lab for Construction Materials Testing
The establishment of a field laboratory for construction materials testing is occasionally included in major project contracts. Starting a remote lab is a substantial endeavor, but even if it is not required, it can address certain logistical issues.
This article will go through how to set up and equip temporary field-testing labs with necessary laboratory equipment.
Planning
Most central construction materials labs begin with a few essential components and gradually add more equipment as demands develop. When you need to furnish a testing facility rapidly, you'll have to think differently. 
If the requirements are simple and just temporary, you may be able to transfer some existing equipment from the main facility. However, considerable planning is required for the successful launch of a well-equipped remote lab.
Laboratory Space
Consider the available area, the estimated workload and production, and the number of personnel required to staff it before selecting equipment. Knowing this enables future planning based on equipment footprints, ergonomics, and test technique needs. Individual device manufacturers can give dimensions and operational space needs.
Utilities
Electrical or plumbing supplies may be restricted or non-existent at your mobile lab location, necessitating the use of a generator or a temporary water supply.
The Essentials
Every construction materials testing facility is likely to require certain equipment. Along with specification compliance and quality, size, weight, power needs, and cost all have an impact on the best choices for field applications.
Sieving and Screening. Gradations and particle sizing are critical applications for most laboratories, and for some field labs, they may be the sole purpose. Because meaningful quality control testing is dependent on gradation accuracy, avoid using used or worn-out sieves and sieve shakers in the field.
Sample Dividing. Any laboratory that works with construction aggregates, soils, or asphalt must-have sample dividing equipment to apply representative sampling procedures to reduce bulk field materials to representative samples for testing.
Sample splitters that can adjust to a variety of sample quantities and particle sizes for ASTM C702 and AASHTO R 76 are the finest alternatives for field operations.
Scales or Balances. A balance is required since nearly every test technique requires a weight determination at some point. A full-size laboratory may have many scales/balances with varying capacities and sensitivities. However, in a small or temporary lab, space and economic constraints may preclude this. Several older types might be replaced by one or two appropriate units.
The remote operation used to be synonymous with mechanical scales, but modern electronic ones now offer an obvious benefit. The most common digital model is one with a huge capacity, good quality, and small size.
Based on the test method requirements, choose the weight capacity and sensitivity, and ensure that the weighing platform is large enough for all applications.
Ovens. Moisture assessments are critical in the testing of building materials, particularly soils and aggregates. For each application, laboratory ovens must fulfill critical requirements for sample volume and temperature range. Field ovens have properties that are distinct from those seen in laboratory ovens.
Space and electrical needs are two constraints that influence the choice of field models. Field drying ovens must balance sample volume versus available bench area. High voltage or amperage power supply may not be accessible in satellite locations.
Thermometers. There are so many temperature device combinations available that you're guaranteed to discover numerous solutions to satisfy your range, accuracy, and resolution standards. As a general rule, avoid using Mercury instruments unless the test procedures specifically call for them.
A damaged Mercury thermometer poses an immediate safety risk and causes cleaning delays while meeting regulatory criteria. Fortunately, thermometers that are accurate, dependable, and devoid of mercury are commonly accessible.
Labware. In the laboratory, there are several methods for measuring liquid volumes. It all boils down to the amount to be measured and the level of precision necessary. Glass allows for more precise and dependable volume readings. Even yet, if lower tolerances are acceptable, plastic labware can be a cost-effective solution for avoiding breakage.
Measurement. To assess dimensional features for samples and tests, construction materials laboratories must have a range of devices. Calipers, measuring tapes, and diameter tapes all have specific uses in conventional testing procedures.
The biggest thing to remember when setting up a field construction material testing laboratory is to find the right balance in testing procedures. Being too strict in your testing procedures can make it more difficult to test the materials and being too loose can make the testing ineffective and inaccurate. 
By keeping these things in mind, you should be able to create a successful testing laboratory for your construction company that can help you provide better materials to your customers.