Second Edition of Build Your House Exhibition Ends a Huge Success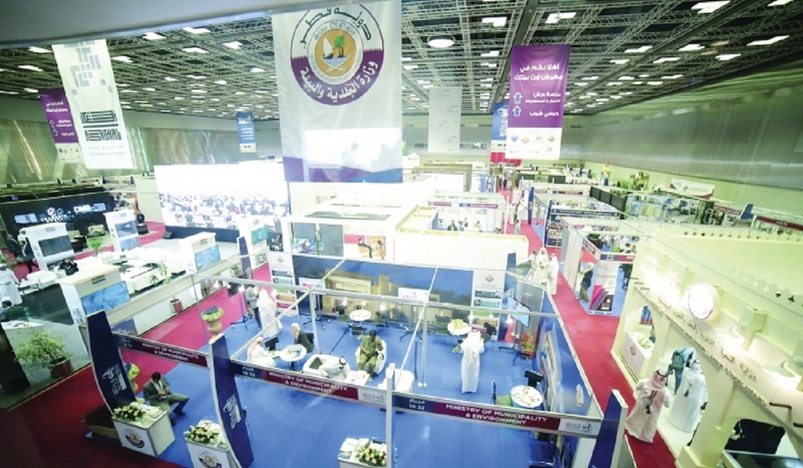 Build Your House (BYH) Exhibition 2021
Hundreds of smart and modern options to design and build houses were pitched and explored as the second edition of the Build Your House (BYH) Exhibition, which drew huge crowds into the Qatar National Convention Centre (QNCC) during the three-day expo, held last September 20-22, 2021.
The event was organised by NeXTfairs for Exhibitions and Conferences, under the patronage of Prime Minister and Minister of Interior HE Sheikh Khalid bin Khalifa bin Abdulaziz Al Thani. Around 150 companies participated in the event, which provided various services in the fields of contracting, architecture, and interior design.
The event was inaugurated by the Minister of Commerce and Industry and Acting Minister of Finance HE Ali bin Ahmed Al Kuwari on Monday. Its opening was attended by Qatar Chamber Chairman Sheikh Khalifa bin Jassim Al Thani, Saudi Ambassador to Qatar Prince Mansour bin Khalid bin Farhan Al Saoud, Public Works Authority President Saad Ahmed Ibrahim Al Muhannadi, Qatar Development Bank CEO Abdulaziz bin Nasser Al Khalifa, Assistant Undersecretary for Municipal Affairs Mansour Abdullah Al Mahmoud, Assistant Undersecretary for Social Affairs Ghanem Mubarak Ali Al Kuwari, Assistant Undersecretary for Common Services Affairs Ali Abdullah Al Buainain, General Directorate of Civil Defence's Captain Abdul Hadi Ali Al Marri, Qatar Business Events CEO Ahmed Al Obaidly, Al Mana Group CFO Tariq Al Mana, Qatar National Convention Center Acting CEO Mohammed Ali Al Nuaimi, QNCC General Manager Abdullah Ibrahim Al Mohannadi; Al Hattab Holding Vice Chairman Abdul Aziz bin Hattab Al Kaabi and NeXTfairs (Exhibition Organizer) Co-Founder and General Manager Rawad Sleem.
The latest edition of the BYH expo featured the latest technologies and sustainable materials in the fields of contracting, architecture and interior design, especially for clients who plan to create or add new designs and features to their houses or real estate projects, Sleem said.
"The exhibition provided an opportunity to discover hundreds of smart and modern options that are both cost-effective and of great quality for designing, building, renovating, maintaining and developing houses. Starting from choosing the consultant, contractor, and the supplier, to planning, designing, and issuing the licenses, up until managing the project with the contractor to handing over keys in a sustainable and cost-effective way."
Sleem said the Ministry of Public Health has identified a set of precautionary guidelines to ensure the health and safety of exhibitors and visitors which are: allowing only fully vaccinated and over 18 people to enter the event, ensuring that all employees received a 2-dose vaccine, and allocating an isolation area -in cooperation with Qatar Red Crescent Society and Qatar National Convention Center- for suspected cases. 
Moreover, an online pre-registration was required to attend the exhibition, a safe distance between individuals was maintained, while also using social distancing wall and floor's signs, providing visitors and exhibitors with a digital comprehensive guide to public safety measures, constantly reminded visitors that face masks should be worn, and the green colour on Eheteraz App for each attendee was checked.
Sleem highlighted that the second edition of BYH exhibition was expected to attract deals worth more than 400 million riyals, as diversified entities participated including government and local companies specialized in various sectors.
The exhibition included workshops and panel discussions that brought together a host of inspirational names to help visitors plan, procure, design and build homes fit for the 21st century with a sustainable future and smart home solutions.
The event introduced visitors to the various procedures and stages of building their houses, including how to get the necessary licenses for construction, the required documents, and all the information about the space standards for building a house, in addition to the state's role in distributing lands over citizens.
Moreover, workshops played an essential role in introducing the most critical security and safety standards that must be considered when building houses. Furthermore, the government entities participating in the event presented their experiences and ideas, offered advice to help visitors, and introduced them to the entire construction cycle, highlighting specifications and financing a teardown and rebuilding new houses.
Sleem announced that BYH expo included the launch of the Conference's "Knowledge and Technology Area" that featured 40 speakers who discussed the latest trends in the industry and shared their insights on various topics, from designing furniture, eco-friendly interior design, to infrastructure, engineering, and more.
Many of the participating companies provided a set of exclusive offers, services, and products available for the first time in the local market. Moreover, raffle draw prizes were given during the exhibition for the first time, with one lucky visitor winning the grand prize – 2021 Ford Ranger XLS.
Finally, winners of the interior design competition showcased their designs to the public. The visitors were able to check out the winning designs and met the winners at VCUarts Qatar's pavilion at BYH exhibition and at the awards ceremony on the second day of the exhibition.
Source: BYH-2021