Saudi Arabia expels Lebanon ambassador amid Yemen row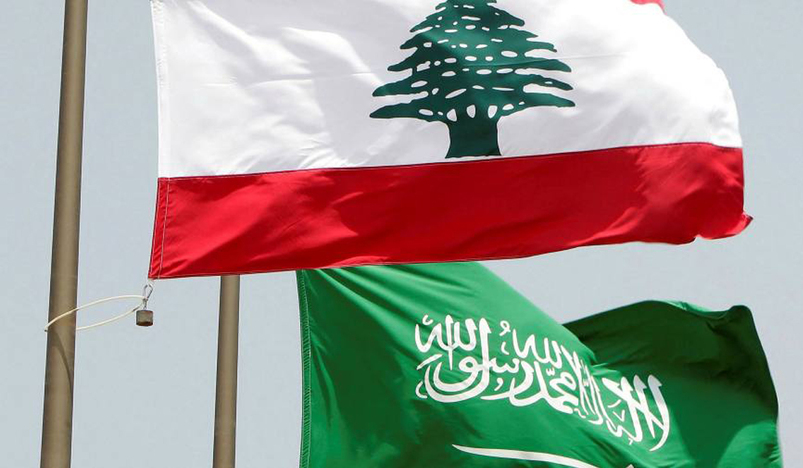 Saudi Arabia and Lebanon Flags
Saudi Arabia has ordered Lebanon's ambassador to leave by Sunday over "insulting" comments by a Lebanese minister.
The Gulf kingdom also imposed a blanket ban on all imports from Lebanon.
The United Arab Emirates (UAE), Bahrain and Kuwait then took diplomatic action in solidarity with Saudi Arabia.
It comes days after remarks by Lebanon's information minister about the Saudi-led military campaign in Yemen sparked outrage in the kingdom.
The Arab League said on Saturday it was concerned about the deteriorating relations, and urged Gulf countries "to reflect on the measures proposed to be taken... in order to avoid further negative effects on the collapsing Lebanese economy".
Meanwhile, Oman and Qatar both called for restraint. The two countries are members of the Gulf Co-operation Council, along with Bahrain, Kuwait, Saudi Arabia, Qatar and the UAE.
How did the tensions spiral?
The row broke out after an interview aired earlier this week showing Lebanon's Information Minister George Kordahi appearing to call Saudi Arabia and the UAE aggressors in the war in Yemen.
For seven years, a Saudi-led military coalition of mostly Sunni Muslim Arab states has been fighting the Houthi Shia Muslim rebel movement in Yemen.
Both Saudi Arabia and the rebels have faced international criticism over alleged atrocities in Yemen.
Mr Kordahi, who was speaking in August before he became a minister, called the conflict "futile" and said the Houthis were acting in "self-defence".
The Lebanese government said Mr Kordahi's remarks did not reflect its position - but relations between the two countries have worsened in recent years. The Iran-backed militant group Hezbollah, which also backs the Houthi rebels in Yemen, has grown in strength in Lebanon.
Within hours of the Saudi announcement, nearby Bahrain also expelled its Lebanese ambassador before Kuwait and the UAE took action. All three nations are close allies of Saudi Arabia.
The UAE foreign ministry announced it would recall diplomats "in solidarity" and also prevent citizens travelling to the country.
The deterioration in relations comes at a time when Lebanon is grappling with a deepening economic crisis and political infighting. Fuel shortages have led to blackouts with rapid inflation leaving much of the country in poverty unable to afford basics.
Lebanon's prime minister has said he regrets the Saudis' decision and expressed hopes they will reconsider.
A crisis meeting of ministers was held on Saturday, amid public disagreement over whether Mr Kordahi - who is a member of a political bloc allied to Hezbollah - should resign.
There are concerns that resignations could have knock-on effects, putting the country's coalition government at risk.
SOURCE: BBC