Returning Eriksen has World Cup in his sights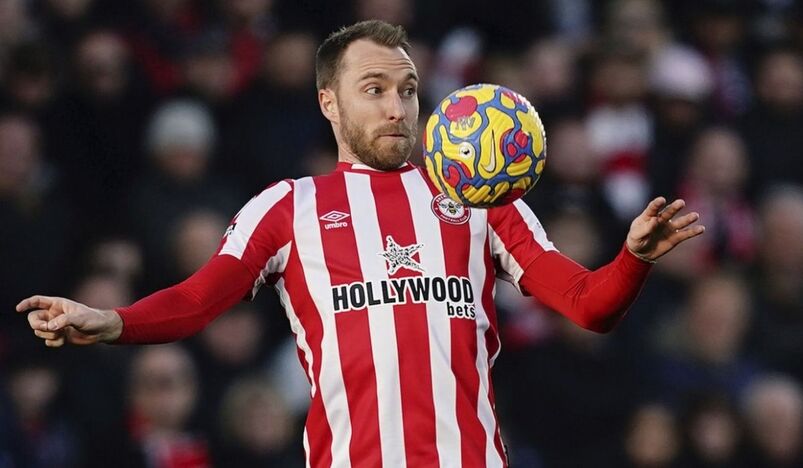 Denmark's star player Christian Eriksen
Christian Eriksen made his comeback on Saturday

Return to action came less than nine months after his cardiac arrest

Denmark star is now targeting a place at the FIFA World Cup Qatar 2022™
For five minutes last June, Christian Eriksen was – in his own words – "gone from this world".
As a horrifying global audience witnessed the frantic attempts to resuscitate Denmark's star player, the prayers those viewers and onlookers offered were simply and solely for his survival. No one that day could have contemplated Eriksen playing football again, far less entertaining the hope that he would be back at the top level within nine months.
Yet just 259 days after dying and being brought back to life, Eriksen stepped out onto the field again on Saturday to compete in the English Premier League.
He did so as a 52nd-minute substitute, at a time when his new club – relegation-threatened Brentford - were 2-0 behind and down to ten men. Inspiring a comeback proved beyond even football's miracle man and yet, for once, this record five-time Danish Player of the Year was happy to play his part in a defeat.
"To go through what I've been through, being back is a wonderful feeling," he said afterward. "It's been very special since day one and Brentford has taken good care of me. Everyone's been really happy about it.
"My family, my parents, my kids, my mother-in-law, and some doctors who have been helping me back and forth [were all here to watch me play]. What they've been through is even tougher than what I've been through."
For Eriksen, Saturday's run-out merely represented the latest chapter in a traumatic story that has taken in that initial cardiac arrest, an operation to fit a pacemaker known as an implanted cardioverter-defibrillator (ICD), and his enforced departure from Inter Milan.
His next target, he says - with his health secure - is "first of all to get the feeling and touchback, that football feeling – and to help Brentford stay in the Premier League".
But the 29-year-old also has also stated his intention to provide this already-remarkable story with a fairy tale ending.
"My goal is to play in the World Cup in Qatar," he declared. "I want to play. That's been my mindset all along.
"It's a goal, a dream. Whether I'll be picked is another thing. But it's my dream to come back. I'm sure I can because I don't feel any different. Physically, I'm back in top shape.
"I want to prove I've moved on and that I can play [for] the national team again. Again, it's up to the manager to assess my level. But my heart is not an obstacle.
"I have been cleared to do everything from the doctors. Continuously I have been given the green light that everything is OK for the future. I don't really have any scared feelings about it, I don't feel my ICD, so if it gets hit I know it is safe enough. I'm not scared of the challenges ahead."
In returning to the field, Eriksen has already shown his courage and exceeded almost everyone's expectations. As he pursues this final, glittering target, he will do so with the entire football world willing him onwards to Qatar.
Source: FIFA News
For More Sports News & Updates - Visit : www.sportsmonks.com