Red Bull Athlete Aameghessib's Back-2-Back eSports Tournament Kicks Off in Qatar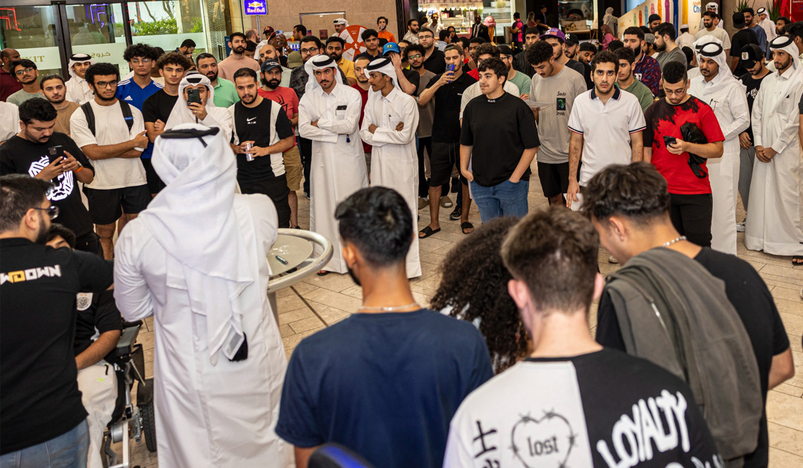 Aameghessib
Qatari native and one of the region's top eFIFA players Ahmed Al Meghessib, aka "Aameghessib", is kicking off Back-2-Back, a unique eSport platform for FIFA23 on PlayStation 5 in Qatar, born from players and for players.
From August 18 until September 15 of this year, Back-2-Back's participants must create 2-player teams and compete in offline qualifiers: qualifiers 1 and 2 will take place at Msheireb Galleria on the 18th and 19th August, qualifiers 3 and 4 at Store 974 - Place Vendome on the 25th and 26th, qualifiers 5 and 6 at Novo Cinemas – Mall of Qatar on the 1st and 2nd of September, and qualifiers 7 and 8 at Virtuocity Qatar, Gaming Theme Park – Doha Festival City on the 8th and 9th of September. The rounds will lead up to the National Final, which will happen at Geekdom – Lusail Boulevard on the 15th of September.
The sportive angle is that teams need to score 2 consecutive goals to win in 11v11 Kick Off Mode. The 2 players versus 2 players format in 11v11 mode changes the whole game dynamics as well as supports the players to play with their favorite teammates using strategy, communication, and skills. Teams are now focused on how well they can coordinate with their teammate to score two consecutive goals.
The game format also requires that all matches be played in Red Bull Arena Leipzig stadium
And last a total length of 8 minutes (max). To win a single match, a team must score 2 consecutive goals without interruption. When this happens, the match ends instantly before time is up. In the event of no consecutive goals, a team should have the highest score when the 8-minute time limit is up. In case of a draw at the end of a single match, a team should score a golden goal to win, and in case of a draw after the golden goal extension, then teams go for penalties. During the penalty shootouts, each team member shoots and saves consecutively. A winning team is determined by a best-of-3-matches.
The team that wins first place will snag 20,000 Qatari Riyals, 5,000 QAR Epic Gamers Voucher (2,500 per team member) provided by Store974, and 2 Chevy Trucks Xpression Gaming Chairs provided by Al Jaidah Automotive. Second and third place winners will get 15,000 Qatari Riyals and 7,500 Qatari Riyals, respectively.
The tournament is in partnership with Store974, Talabat, Chevrolet, Oakley, Qatar Esports Federation, Showdown, I Heart Qatar, and Geekdom.
To register and sign up your 2-player team, head to  www.redbull.com/aab2b