QU Announces its Internal Research Grants Awards for 2022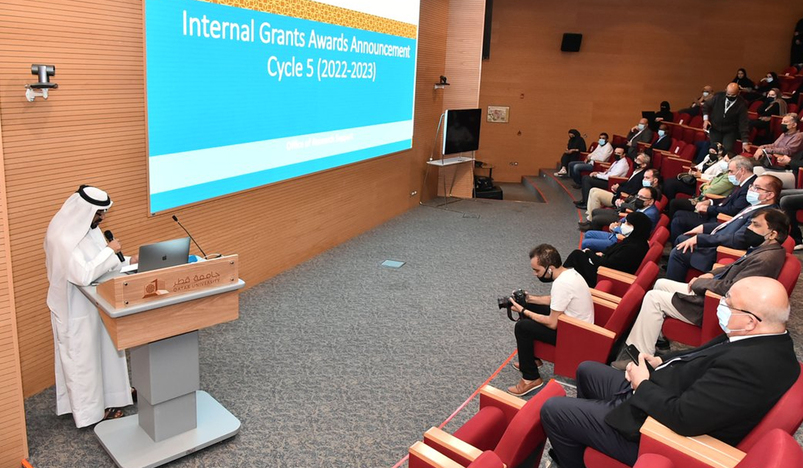 QU Announces its Internal Research Grants Awards for 2022
The Office of Research Support at Qatar University organized an event to announce the Internal Grant Awards 2022, with the presence of Vice President for Research and Graduate Studies at Qatar University Prof. Mariam Al-Maadeed.
The event started with a preview of the submitted grants. Globally, most of the programs had seen an important increase in the total number of submissions compared to last cycle, with the total reaching 170 this year.
In terms of research fields, most of the submitted proposals were in the Health and Energy and Environment research pillars at Qatar University.
The Office of Research Support recently established a new program called High Potential Projects Program (H3P). H3P supports highly innovative projects proposed by QU research centers, and is specifically looking for sustainable solutions with high Technology Readiness Levels (TRL). The ambition of the program is to facilitate the creation of innovative technologies and platforms, towards a roadmap for contribution to the Qatari innovation fast growing ecosystem. For this year, 8 projects have been awarded.
The International Collaboration, through the International Research Collaboration Co-Fund (IRCC), remains highly attractive with 17 new collaborations with universities from Netherlands, Malaysia, Turkey, Canada, Italy, Iran, France, Portugal, Brazil, Jordan, Austria, Australia, UK and US. This year, Qatar University also strengthened its specific IRCC Strategic Track with Oman. The figure below shows the global repartition of the co-funded projects during the former 3 years of the IRCC lifecycle.
From the industry side, Qatar University has initiated the new 'QAFCO-QU Research and Development Grant' (Q-RDG) in collaboration with Qatar Fertilizer Company (QAFCO). The grant targets faculty and students from different fields of research, and supports QAFCO strategy in creating knowledge, contributing to enable Qatar in becoming self-sufficient, and building a knowledge-based economy to achieve Qatar National Vision 2030. The grant has dedicated solutions with high Technology Readiness Level in process enhancement, environmental studies, climate change adaptation and soil health management. Q-RDG supported 8 early-stage pre-projects of 5 months duration in its first phase, from which 2 projects were selected to continue as one-year full projects.
Qatar University also announced 3 new programs: The Transformative Research Priorities Readiness Program is dedicated to support QU Transformative Research Priorities, and intends to foster the collaboration within Qatar and helps QU research teams to become regional leaders in their fields, and to increase the impact of their research ideas. The Postdoc Program is intended to consolidate QU excellence initiatives, developed as part of its strategic impact research framework. This program involves multidisciplinary work and high degree of novelty in hosting a number of exceptional Postdoctoral researchers at various research areas that meet fundamental technological, scientific challenges and social development. The Visiting Fellow, Scholar and Researcher Program has the objective of consolidating the momentum of QU journey towards achieving strategic objectives and promotion of international endeavors. This program is willing to host high-caliber renowned visiting fellows, scholars, and researchers at various scientific and research disciplines related to QU's Research Priorities. 
Source: QNA