QRCS, Turkey's AFAD Sign Partnership Agreement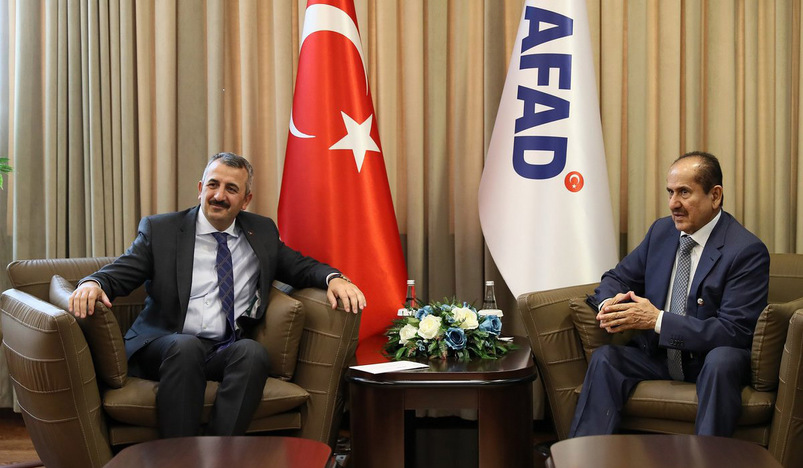 QRCS, Turkey's AFAD Sign Partnership Agreement
Qatar Red Crescent Society (QRCS) signed today a partnership agreement with Turkey's Disaster and Emergency Management Authority (AFAD) to respond to the recent wildfires and flooding across the country, with a total budget of USD30 million.
Under the two-year agreement, several activities will be carried out, such as reconstruction of affected residential areas, compensation for the losses of the public (such as agricultural crops, commercial facilities, vehicles, and other private property), and cash and in-kind aid for affected families.
These activities are estimated to benefit 247,000 persons in 25 districts across five provinces. The agreement also involves exchange of experience and capacity-building in terms of systems of disaster information management, early warning, communication and technology in emergencies, and risk management/reduction.
Currently, a high-level delegation from QRCS is visiting Turkey, including HE Secretary-General Ali bin Hassan Al Hammadi, Faisal Mohamed Al Emadi, Executive Director of Relief and International Development Division, and Dr. Fawzi Oussedik, Head of International Relations and International Humanitarian Law.
The signing ceremony was attended by HE Ambassador of Qatar to Turkey Sheikh Mohamed bin Nasser bin Jassim Al-Thani and Head of AFAD Yunus Sezer.
Al Hammadi said, "It is our pleasure at QRCS to work together with AFAD on humanitarian projects for those affected by wildfires and flooding in Turkey, in solidarity with the Turkish people to reconstruct the affected regions, inspired by the historical relations between the two countries".
He hoped that this agreement would achieve its desired goals. "As humanitarians, we have to intensify efforts to help local communities in the affected areas to overcome the crisis and restore normal life. This is a top priority for us, by adopting a community-based strategy of disaster preparedness/recovery capacity-building," Al Hammadi concluded.
Sezer stated, "AFAD and QRCS have signed an aid protocol for supporting the aid activities for the forest fires in the Mediterranean and the floods in the Black Sea region. During the signing ceremony, both parties stated the importance of current and future collaborations between AFAD and QRCS".
HE Sheikh Mohamed bin Nasser Al-Thani welcomed the signing of partnership agreement between QRCS and Turkey's AFAD. He reiterated Qatar's unwavering commitment to standing by the Turkish people, building upon the strong and extraordinary relations between the two countries.
In his statement, he hoped that the agreement would achieve all its desired outcomes of serving to help the victims and reduce their losses.
Late in July, wildfire broke out in many parts of Turkey. As a result of winds and too hot weather, the number of wildfires increased to 270 in 53 districts.
SOURCE: QNA