QRCS Supplies Emergency Departments of Gaza Hospitals with Life-Saving Medical Aids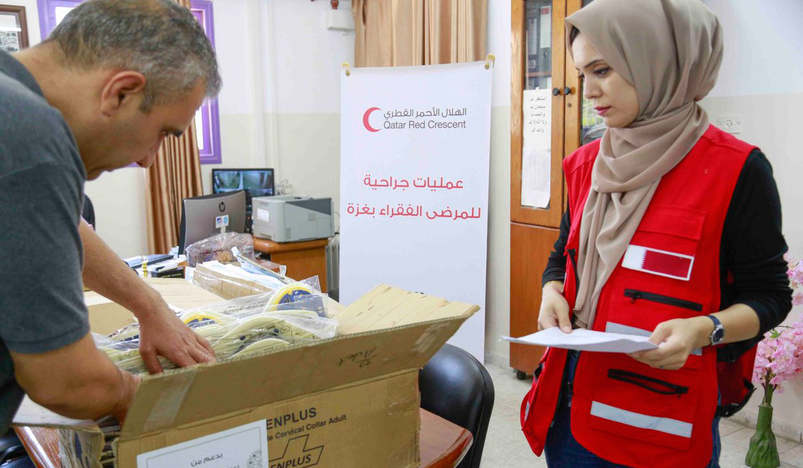 Medical Aids
Qatar Red Crescent Society (QRCS) announced today the continuation of its concerted efforts to support the health sector in the Gaza strip, where seven hospitals of the Palestinian ministry of health had benefited from the aid that included medical consumables within the project of the surgical operations for the poor patients supported and implemented by QRCS in partnership with the Palestinian Ministry of Health which had unequivocally contributed to saving the lives of a number of injured people during the recent aggression on the strip.
Emergency & Disaster Medicine Consultant at the Palestinian ministry of health Dr. Mohammed Al Attar clarified that supplying medical consumables by QRCS to handle the emergency cases at the emergency sections of hospitals had supported offset the deficiency of some vital medical supplies, including bougie and glucose test strips, in addition to capitalizing on the Quicktrach tool for the first time in Gaza hospitals which performs an emergency airway puncture (Cricothyrotomy), used by the medical staff during the recent aggression to swiftly rescue a number of critical injuries.
He pointed out that QRCS had already supported the training of at least 60 physicians and the supporting medical practitioners operating in medicine and emergency services to further enhance their capabilities to operate during crisis times and subsequently determine the priorities which had a positive impact during the aggression on Gaza through responding swiftly to the emergency cases and professionally handle them based on the global health protocols. 
QNA