QRCS Organizes First Aid Training Course for Ashghal Workers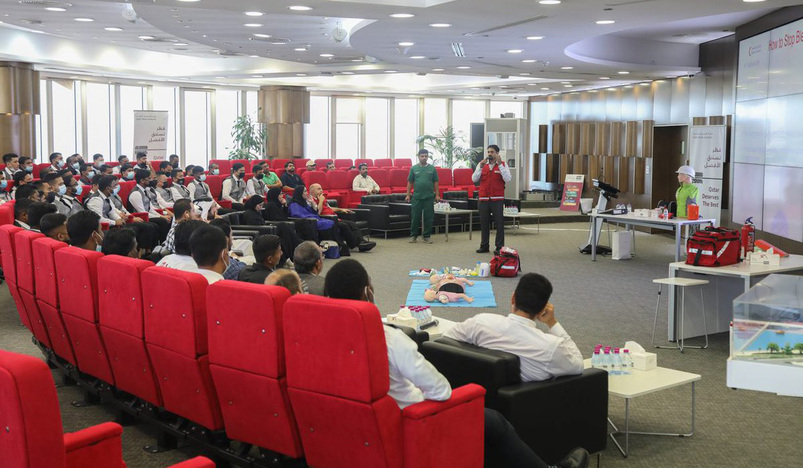 First Aid Training Course
Qatar Red Crescent Society (QRCS) organized a training course in first aid as part of the "Secure Your Life" initiative for workers of the Public Works Authority (Ashghal), on the occasion of the World First Aid Day, celebrated every year on Sept. 10.
The training course affirms the active role of QRCS in the society, and its quest to build the capacity of workers in the field of occupational safety and health and their well-being in the workplace.
The course highlighted the significance of first aid and the need to disseminate it in the community, given its importance in saving lives during emergencies and crises.
The training covered several aspects of first aid, including preparedness for crisis management, ways to prevent work-related hazards, how to deal with minor injuries, the ability to intervene correctly in emergency situations to save lives, the stages of applying cardiopulmonary resuscitation, and the initial response to the most common injuries in social life such as fainting, cuts, fractures, burns, suffocation and others.
Director of QRCS Volunteering and Local Development Sector Mona Fadel Al Sulaiti explained that facing crises and emergencies, whether by preparing for them or dealing with them if they occur, gives QRCS, as humanitarian organizations, a major role in this area, in order to ensure protection for vulnerable groups, including workers who constitute the largest human base in the State of Qatar.
For her part, Head of the Community Development Department in the Volunteering and Local Development Sector Noura Issa Al Fadala stressed the keenness of Qatar Red Crescent to highlight the developmental role in all its works, and to leave a positive impact through the initiative on the category of workers by raising awareness and educating them with basic information that they can practice in their daily lives, within the framework of the main objectives the "One Hand" program which aims to help them and work to build and develop their capabilities.
Adel Ashkanani, Head of Public Services Department at the Public Works Authority, noted the keenness to provide a training course in first aid in cooperation with Qatar Red Crescent, with the aim of explaining the basic principles and raising awareness among workers on how to deal with emergency situations and preserve their lives; adding that Ashghal is constantly seeking to hold practical workshops and various awareness activities to educate workers in the field of health and safety, and develop their abilities to deal with crises in the workplace.
(QNA)