QRCS Launches Medical Convoy to Treat Eye Diseases in Sudan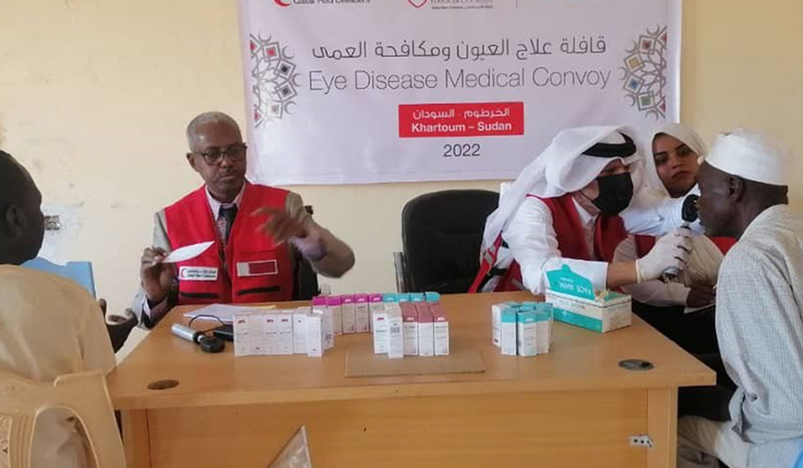 QRCS Launches Medical Convoy to Treat Eye Diseases in Sudan
Qatar Red Crescent Society (QRCS) has initiated an eye disease treatment and anti-blindness project in Sudan. The project launched in Karari Locality, Omdurman.
It involves providing medical examinations, medications, eyeglasses, and surgeries free of charge to ease the financial burden for the beneficiaries in the targeted areas.
This project is part of QRCSs ongoing humanitarian operations in Sudan, under its year-round medical convoys program aimed at providing medical care for poor patients in many countries.
In his speech, HE Ambassador of the State of Qatar to the Republic of Sudan Abdul-Rahman bin Ali Al Kubaisi, praised QRCSs humanitarian initiatives, inviting Sudanese medical professionals to benefit from the expert medical delegation, headed by Dr. Omar Al Qahtani, senior consultant and Head of Ophthalmology Department at Hamad Medical Corporation.
According to the plan, during the period of this project, which extends from Jun. 4-9, two camps will be implemented in Khartoum and Gezira to conduct 8,000 medical consultations, perform 800 surgeries, and provide 2,500 eyeglasses free of charge for the patients most in need, in cooperation with the Al Basar International Foundation Sudan, and in coordination with Sudans health authorities and QRCSs representation office in Sudan. 
Source: QNA