QRCS launches Humanitarian Exhibition Tour at Katara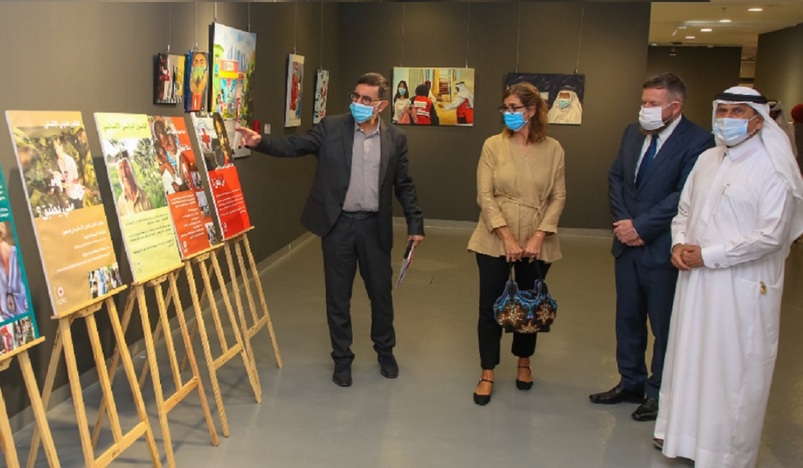 Qatar Red Crescent Society launches Humanitarian Exhibition Tour at Katara
Qatar Red Crescent Society (QRCS), the Embassy of Switzerland in the State of Qatar, and the International Committee of the Red Cross (ICRC) co-organize a contemporary art exhibition under the theme of "Humanitarian Principles: Here and Now."
From 18 November to 6 December 2021, a series of exhibitions will be held in different locations as follows: Katara Cultural Village (18-22 November), The Gate Mall (23-26 November), Hamad Bin Khalifa University (HBKU) (28 November-1 December), and QRCS headquarters (2-6 December).
The purpose of the event is to promote a culture of International Humanitarian Law (IHL) and raise public awareness about the current humanitarian issues, such as education during armed conflicts, IHL and Islamic Sharia, and climate change.
Also, IHL workshops will be held, and a diverse collection of legal and humanitarian publications will be distributed to the visitors of the event.
Held at Katara's Youth Hobbies Center, the inauguration ceremony was attended by Ali bin Hassan Al-Hammadi, Secretary-General of QRCS, H.E. Edgar Doerig, Ambassador of Switzerland to the State of Qatar, Cherine Pollini, Head of Doha Mission of ICRC, and Dr. Fawzi Oussedik, Head of International Relations and IHL at QRCS.
In his speech, Mr. Al-Hammadi said:
Every day, humanitarian crises around the world grab the headlines, bringing with them sad feelings. As a National Society, we at QRCS and our Movement partners, ICRC and the International Federation of Red Cross and Red Crescent Societies (IFRC), work under the umbrella of, and in accordance with, the seven Fundamental Principles deeply rooted in our humanitarian practice: humanity, impartiality, neutrality, independence, voluntary service, unity, and universality.
We believe that these principles, in such a changing world, are more important now than ever before, in light of the increasing tragedies, suffering, violations, destruction, crises, and disasters.
Seeking to emphasize the significance of these principles here and now, the Embassy of Switzerland, the patron of the four Geneva Conventions and their Additional Protocols, ICRC, the advocate of IHL, and we join hands to promote humanitarianism. With support from our local partners Katara Cultural Village, The Gate Mall, and HBKU, we co-organize a humanitarian exhibition tour in Doha, as of today until 6 December 2021, to promote key IHL principles and common human values.
Towards these noble goals, I officially announce the inauguration of the humanitarian exhibition tour, in recognition of these principles, humanitarian workers, and their diverse impartial and neutral humanitarian efforts. One major value underlying QRCS's work is to have the best interests of humanity everywhere at heart. Today, we try to show this commitment through the imagination and production of creative artists.
I would like to thank everyone who made this exhibition a reality that engages the public in raising awareness about the mission and noble goals of humanitarian action.
Mr. Doerig said:
It is a great pleasure to welcome you all here at Katara, to jointly inaugurate the first of four launches of the contemporary art exhibition "Humanitarian Principles: Here and Now", with my colleagues and co-organizers of this event, Ali bin Hassan Al-Hammad, Secretary-General of QRCS, Dr. Fawzi Oussedik, Head of International Relations and IHL at QRCS, and Mrs. Chérine Pollini, Head of Mission of ICRC in Qatar. Special thanks go to Dr. Khalid bin Ibrahim Al-Sulaiti, General Manager of Katara Cultural Village, for generously hosting this event.
Two years ago, Swiss diplomatic missions around the world planned to celebrate the 70th anniversary of the four Geneva Conventions on 12 August 1949. As you know, celebrations were cut short due to COVID-19.
The Geneva Conventions represent the core of IHL and were born in Switzerland. They were drafted by states in Geneva, under the auspices of the Swiss Government and the guidance of the then Federal Councilor and Minister of Foreign Affairs Max Petitpierre.
Geneva, the city that gave its name to the Conventions, is the global hub of humanitarian efforts. It is also home to the custodian of IHL, the ICRC, co-founded by the Swiss citizen Henry Dunant in 1863.
Because of this background and my government's neutrality, independence, and humanitarian tradition, raising the issue of "Education during Armed Conflicts", as we are doing today, is very important to my government.
That is why Switzerland pledged during the 2019 Global Refugee Forum in Geneva to establish the Geneva Global Hub for Education in Emergencies. The hub was officially launched on 25 January of this year. Over 127 million children in humanitarian crises and conflict regions cannot go to school. More than 40% of the 80 million displaced people are children. The Geneva Global Hub for Education in Emergencies brings together actors who are directly involved in the education sector, as well as organisations active in areas such as protection, health care, peacebuilding, and human rights. Switzerland's long-term commitment in this field aims to find interdisciplinary solutions for children in emergencies, which tragically are often armed conflicts.
This exhibition comes timely. Every day, we receive news headlines about humanitarian crises from around the world. In one way or another, they always affect the life of children. The images associated to these tragedies are often related to great suffering. Naturally, we sometimes feel helpless or overwhelmed by all these impressions. The contemporary art installation "Humanitarian Principles: Here and Now" is a reaction to these feelings.
The Swiss Agency for Development and Cooperation (SDC), in collaboration with ICRC and the Musée de l'Elysée in Lausanne, Switzerland, gave carte blanche to 10 Swiss photographers to reflect on and illustrate the Humanitarian Principles – humanity, neutrality, impartiality, and independence. Instead of looking at humanitarian crises head-on, the concept of the exhibition allows people to take a step back and pause, to think and to feel. The idea is to provide a space for discussion and debate about the humanitarian sphere and how it is changing.
I invite you all to join me on this journey, discover the diverse stories behind the artworks. Take your time, ponder, rethink, go back, and discuss with the people around you.
The whole exhibition is conducted in Arabic. But do not worry if you are not fluent. One excellent feature of this exhibition is its accessibility. The creators established a digital platform for this exhibition called "Dialogues on Humanity". There, you can not only access the whole exhibition in 11 languages, but also read about a variety of stories, experiences, and impressions from people from all over the world who have experienced the same exhibition. Therefore, do not forget to bring your smartphone along, to scan the QR code on every piece of art.
With this said, I want to thank QRCS for the extensive support brought forward during this 3-week initiative, and all the other organizers for making this this exhibition possible.
Mrs. Pollini said:
As Head of ICRC in Qatar, it is my pleasure to participate today in this exhibition "Humanitarian Principles: Here and Now", curated by the Musée de l'Elysée in Lausanne, Switzerland, and organized in collaboration with QRCS and the Swiss Embassy.
I would like to thank QRCS for linking the exhibition to education during armed conflicts, which will contribute to attracting attention to the need to protect education during armed conflicts or other situations of violence.
Promoting IHL obligations related to the protection of education and promoting respect for IHL obligations that protect the continuity of education have been a key element of ICRC's efforts to influence state's behavior. IHL aims at ensuring that education continues, and that students, educational personnel, schools, and other educational facilities are protected in situations of armed conflict.
Protecting education also means ensuring that laws, policies, and military doctrine and training are in place to direct the behavior of weapon bearers.
I now take the liberty to quote ICRC President Peter Maurer's recommendations made in his statement for the International Day to Protect Education from Attack on 9 September 2021, as I think they are and will always be of utmost relevance:
One, to make stronger efforts to keep schools open and safe during conflict or violence, including, where possible, those close to frontlines;
Two, parties to armed conflict, and those who support them, must work for better respect of IHL, protecting education from attach and facilitating its continuation. We welcome the work of states to bring IHL home by adopting the necessary domestic law and practice to ensure that weapon bearers respect schools as they fight;
Three, to assist and empower communities and ministries of education to manage the consequences of conflict and violence. Often, fear and lack of preparedness, rather than a direct attack, is the decisive factor in closing schools;
And four, to analyze and respond to the systemic implications for education continuity that compound from individual attacks.
Dr. Oussedik gave a brief overview of the seven Fundamental Principles governing international humanitarian action, as well as their implications and applications for humanitarian service providers, particularly in conflict zones.
Then, the attendance took a tour of the exhibition to watch the works of art. The event is open to the public at the Youth Hobbies Center, Katara (Building No. 18), until today, 22 November 2021.???
Source: QRCS