QRCS Further Backs Health Care Sector in Sudan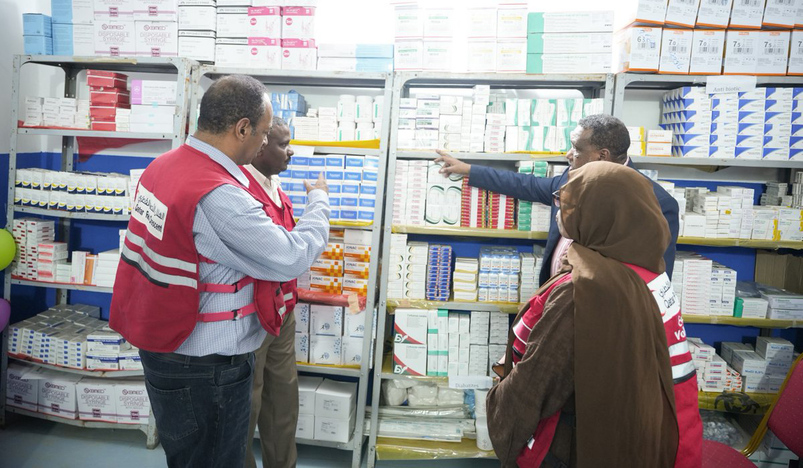 QRCS
As part of its humanitarian response in Sudan, the representation office of Qatar Red Crescent Society (QRCS) there has opened a pharmacy unit at Wad Medani Teaching Hospital in Gezira State.
Serving as a one-to-one pharmaceutical outlet, it dispenses prescription drugs free-of-charge to internally displaced people (IDPs) at shelter camps, through coordination between QRCS and camp medical units.
The new pharmacy meets the needs of 348 displaced families at 49 shelters in Wad Medani. It was equipped in partnership with the Ministry of Health (MOH) in Gezira and the Sudanese Red Crescent Society (SRCS). The medicines are supplied through the airlift deployed by the State of Qatar and QRCS to help victims of the ongoing conflict in Sudan.
Dr. Salah Abdulmalik Daak, head of QRCS representation office in Sudan, said the pharmacy served medications of emergency department and chronic diseases for free. He emphasized QRCS's commitment to providing every form of support for IDPs, with this pharmacy securing pharmaceutical supply for patients.
Dr. Osama Abdulrahman Al Faki, Director-General of MOH Gezira, commended the extensive and nonstop support from QRCS for the state's health sector. He promised to continue offering medical care services for IDPs at all health facilities.
QRCS's personnel in Port Sudan took handover of a first batch of ten gastrointestinal (GI) endoscopes, as a gift from the people of Qatar for the brotherly Sudanese people, through cooperation between QRCS and Hamad Medical Corporation (HMC).
Dr. Daak explained, "The new high-tech endoscopes will be used to diagnose GI diseases at many state hospitals and gastroenterology clinics in Wad Medani, Atbara, Gedaref, Port Sudan, and Kosti.
We are coordinating with HE Dr. Haitham Ibrahim, Federal Minister of Health, and Dr. Abdelmoneim Al Tayeb, Director of the National Center for Digestive Diseases in Gezira State".
QRCS has already distributed medical and food aid in 12 Sudanese states, in cooperation with SRCS, the Humanitarian Aid Commission (HAC), and Sudan's MOH.
(QNA)