QOC Secretary-General Inaugurates IPC Athletics World Championships Exhibition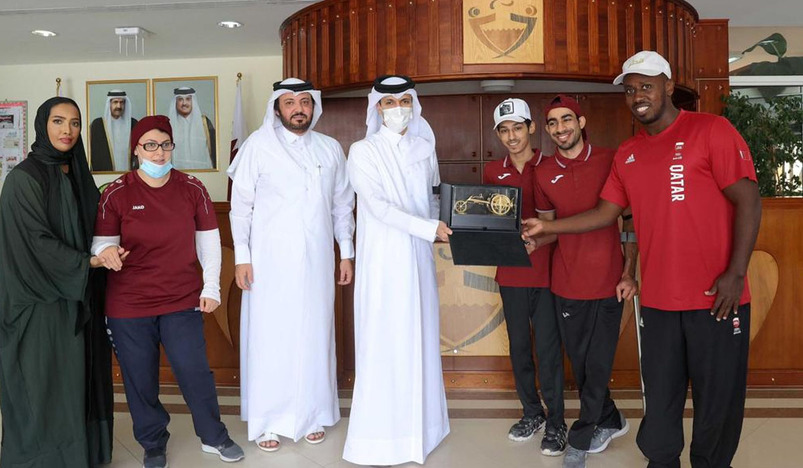 QOC Secretary-General Inaugurates IPC Athletics World Championships Exhibition
HE Secretary-General of the Qatar Olympic Committee (QOC) Jassim bin Rashid Al Buenain inaugurated IPC Athletics World Championships Exhibition that celebrates the event that was held in 2015 in Doha.
The exhibition is at the headquarters of the Qatar Paralympic Committee, comes in honor of all those who contributed to the event's success.
It brings together photos for the opening and closing ceremonies, referees and volunteers' kits and the event's merchandise and sports equipment.
It's worth mentioning that it was the first ever IPC Athletics World Championships held in the Middle East from Oct. 21-31, 2015, with participation of 1,226 athletes from 93 countries.
The exhibition aims to shed light on all landmark achievements being made by team Qatar champions at both regionally and on Olympic levels, furthermore to display the Qatar's effort in hosting the event that brought together 1226 athletes from 93 countries.
On this occasion, the QPC executive director Ameer Al Mulla welcomed HE Secretary-General along with team Qatar stars and their technical and administrative staff.
Al Meer appreciated the centre stage role of the QOC under the presidency of HE Sheikh Joaan bin Hamad Al Thani in supporting the sports for players special needs in the country, such support leading to a lot of achievements and brought top honorable medals to the nation at both regionally and on Olympic levels. He noted that the QPC will keep up producing top champions to compete in different sport events.
On his behalf, HE QOC Secretary-General Jassim bin Rashid Al Buenain has lauded the full support delivered by all institutions, sectors and sport facilities in the country to serve the QPC athletes. He also applauded the most recent achievements of Qatar's Abdulrahman Abdulqader who claimed the bronze medal of men's F34 shot put in Tokyo.
QOC Secretary-General toured all wings and the sections of the exhibition and had a brief on all the medals, kits, equipment, tools, sport facilities and sport dresses of team Qatar members along with all QPC's technical devices, medical clinic and gyms.
In statement on Thursday, Ameer Al Mulla said, "We are truly happy with the visit of the QOC Secretary-General, our initiative of this exhibition reflects a real desire of QPC to document all achievements, records and figures being made at that memorable event hosted by Doha in 2015. I really appreciate the QOC's center stage role that made our technical and administrative effort during the event impressive and possible, so that our unparalleled success in the event will act as a lasting legacy for generation to come."
Source: QNA