QNL Has Gifted Indonesian Libraries With 1,000 Specially Curated Reading Collections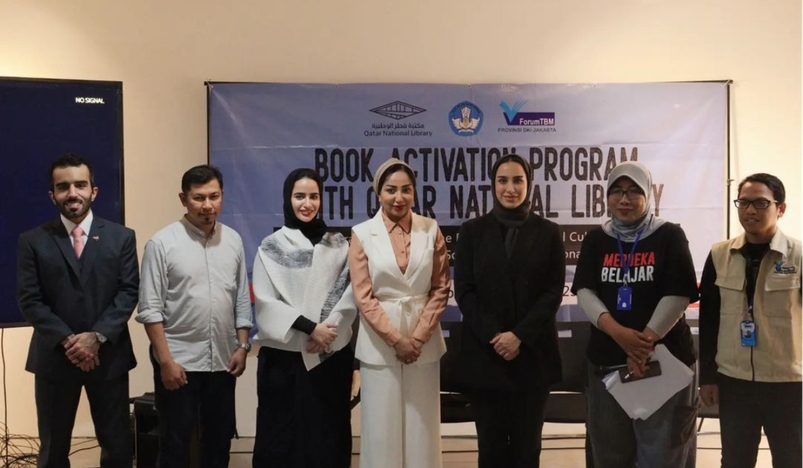 Representatives from QNL and Indonesian authorities at the occasion.
Doha, September 25 - In a move that highlights Qatar National Library's commitment to global literacy and cultural exchange, Qatar Reads presented 1,000 specially curated reading packages to five prominent community libraries through The Library Forum for Society in Jakarta, Indonesia.
This donation is part of a larger initiative to raise literacy levels amongst children in Indonesia and foster a cultural collaboration. This effort is part of Qatar's annual "Years of Culture" initiative - an international cultural exchange that deepens understanding between nations and their people.
Furthermore, as part of the Family Reading Program in Qatar, 1,000 children in Doha received packages about Indonesia, an endeavor which culminated in a cultural celebration at the Indonesian embassy in Qatar.
HE Ambassador of Indonesia to Qatar Ridwan Hassan said: "We chose the children because they are the owners of the future and the leaders of tomorrow. With reading, they can broaden their knowledge and experience, positioning themselves as agents of change for the enhancement of our future initiatives. Thank you Qatar Reads and Qatar National Library."
HE Ambassador of the State of Qatar to the Republic of Indonesia and Association of Southeast Asian Nations Fauziya Edrees Salman Al Sulaiti said: "It fills me with immense joy to observe young Indonesians embracing the culture of Qatar, just as Qatari children are doing with Indonesia. The celebration of the Years of Culture between our nations has been a testament to our mutual appreciation. I remain optimistic that this spirit of collaboration will only deepen with time." Director General of Culture in the Ministry of Education and Culture in Indonesia Hilmar Farid said: "Facilitating the union of Qatar Reads and The Library Forum for Society in Indonesia has been a rewarding endeavor. Their combined dedication to foster a culture of reading is a vivid reminder that literature is a lifelong pursuit, one that continually refines and uplifts us." The contribution included titles such as Hayy Ibn Yaqdhan, written in Arabic for children by Qatari author Asma AlKuwari, translated into Indonesian by Hadija Rima, and published by Dar Nabjah. It also featured the English-language "Hayakom", an in-depth look at Qatar by HBKU Press, and the Welcome to Qatar booklet, showcasing unique comics from Qatar Reads which was made available in Arabic and Indonesian. Additionally, the collection contained Ambassador of My Country, a comic about Qatar penned in Arabic by Khalid AlSubaiy, a primary student from Qatar Academy Sidra, and translated into Indonesian by Hadija Rima.
Source : QNA