QNB Stars League: Al Rayyan Defeat Al Ahli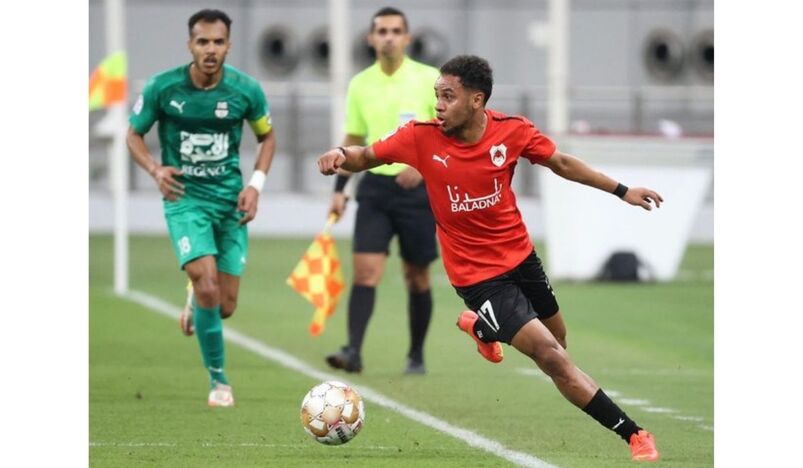 Al Rayyan midfielder Yacine Brahimi in action
 Al Rayyan beat Al Ahli 1-0 in Week 5 of 2021-2022 season QNB Stars League at the Khalifa International Stadium on Saturday.
Yacine Brahimi (83rd-minute penalty) scored the only goal of the match.
Al Rayyan took their points tally to six with their first victory and Al Ahli stood on three points following their second defeat.
The match got off to a fast-paced start. Al Rayyan's Hashem Ali picked on a neat cross from the centre, but his rushed shot went wayward but still drew applause from coach Laurent Blanc on the touchline in the 10th minute.
A few moments later, Khaled Muftah curled in a left-footed drive, but his shot got deflected off Al Ahli's Jassem Mohamed Omer. The deflection covered a long distance, but keeper Ivanildo Rodrigues was alert to catch the loopy drop over his head just inches from the goalline.
In the 14th minute, Al Ahli's Patrick Friday Eze anticipated a long cross from the flank and jumped high for a deflection from close range. Al Rayyan keeper Fahad Younis, however, was in position to block the move.
In the 26th minute, Al Ahli's Abdulrasheed Umaru got a deflection from close range, but the Al Rayyan keeper was once again alert to grab the ball.
Two minutes from the first-half whistle, Yohan Boli managed to get close to shooting range, but his left-footed drive from inside the Al Ahli box was saved by keeper Rodrigues. When the two sides walked off for the break, Al Rayyan had enjoyed 64 per cent of ball possession.
Eight minutes into the second half, Al Ahli's Umaru swivelled past Muftah and Shoja Khalilzadeh of Al Rayyan before scoring with a shot past the keeper. But the referee ruled a foul against Umaru, who had seemingly pushed Muftah just before taking the shot at the goal.
Close to the hour mark, Umaru unleased a powerful shot from outside the box, but the Al Rayyan keeper dived to his left to parry the ball away.
In the 83rd minute, following a rough tackle on Muftah inside the Al Ahli box, Al Rayyan opened the scoring when captain Brahimi converted the resultant penalty. Al Ahli's Marko Jevtovic charged into Muftah with a rough shoulder tackle and the referee quickly pointed to the spot.
In the 88th minute, the referee flashed a red card to Moameen Mutasem for his rough tackle on Al Ahli's Jasem Mohamed. (QNA)