QIB Takes Part in "Plant Million Trees' Initiative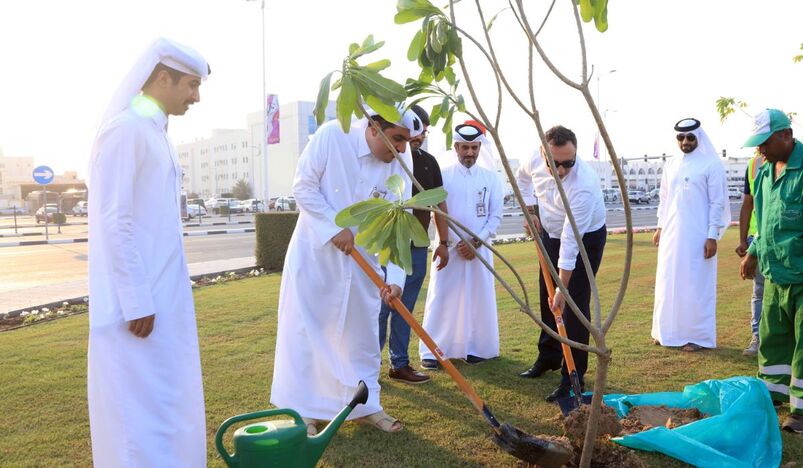 QIB Takes Part in "Plant Million Trees' Initiative
Qatar Islamic Bank (QIB), Qatar's largest Islamic bank, announced that it has planted 1,000 trees as part of the Ministry of Municipality's initiative to plant one million trees in Qatar by 2030, aligned with the objectives of the Qatar National Vision 2030 (QNV) and Qatar's Sustainability Week. 
In line with the agricultural initiative organized by the Ministry of Municipality represented by the Public Parks Department and Parks Department of Doha Municipality, QIB planted 1,000 trees with the presence of Mr. Dinos Constantinides, QIB's Chief Strategy & Digital Officer and Mr. Khalefa Al-Mesalam, QIB's Head of Human Capital Group as well as representatives from the Ministry of Municipality.
Through this initiative, QIB reaffirms its environmental leadership under the umbrella of its Environmental Social and Governance (ESG) program, whilst striving to drive awareness and encourage customers to make a positive impact on the environment. QIB's participation in this significant initiative is a reflection of how the Bank feels about the environment and keeping Qatar green. QIB believes in promoting environmental and sustainable business practices and supporting Qatar's efforts in raising awareness among the wider community.  QIB's ESG program focuses on embedding the principles of sustainability into the bank's governance, decision making, and business operations. 
Mr. Dinos Constantinides, QIB's Chief Strategy & Digital Officer stated: "Safeguarding the environment is a collective responsibility and we are pleased to collaborate with the Ministry of Municipality to help achieve Qatar's ambitious vision of planting one million trees by 2030 and transform the country within the principles of sustainable development. As Qatar prepares to host the first carbon-neutral World Cup tournament, we are proud to be part of this milestone and contribute to a positive global cause, which is in line with our Environmental, Social and Governance Strategy. We thank the Ministry of Municipality for their initiative and collaboration to help build a sustainable future for all citizens and residents of Qatar."  
The initiative to plant one million trees was launched at the opening of the first Qatar International Environmental Exhibition and the 7th Qatar International Agricultural Exhibition in 2019, as Qatar complies with international pledges and the Paris Agreement on reducing carbon emissions, given the importance of trees in the ecosystem and its implications for human health and the quality of life. The initiative was launched as part of the Ministry's efforts to enhance its initiatives in climate change mitigation and environmental sustainability. 
As part of its continuous efforts to drive sustainability in Qatar, QIB employees also took part in a beach cleaning drive to raise awareness on the importance of a clean environment and to protect the environment from littering and pollution. Furthermore, QIB signed an agreement with Loop Mobility to boost efficient, affordable, and eco-friendly transportation solution.