QIB and Qatar Post to launch Qatar's first fully integrated postal delivery point of sale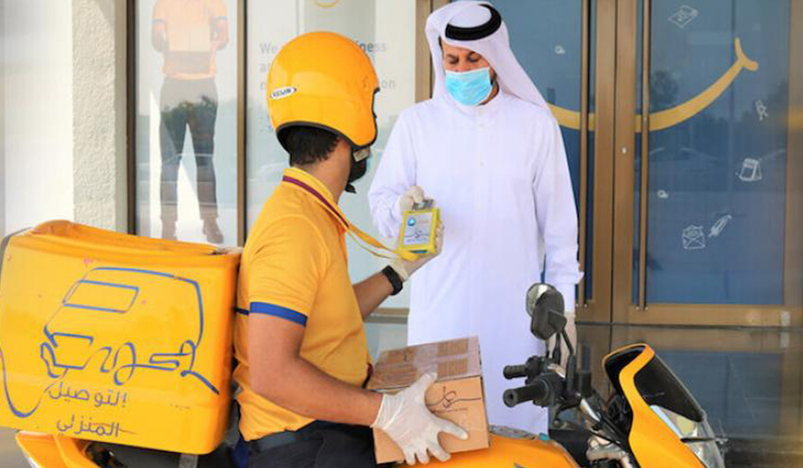 QIB and Qatar Post to launch Qatar's first fully integrated postal delivery point of sale
Qatar Islamic Bank (QIB) launches the first fully-integrated postal delivery Point of Sale (PoS), in partnership with Qatar Post and with QPay, the leading Qatar-based FinTech company offering a wide portfolio of electronic payment solutions.
Using the new, state-of-the art PoS device, this new QPay payment solution allows Customers to make cashless payment on delivery when receiving parcels and other mail items: a super convenient and safe method of payment for all Qatar Post customers.  The smart PoS allows Qatar Post's delivery driver to know precisely the exact Customer details for each delivery, including the total amount to be collected, by simply scanning the item using the QPay devise, which has been fully integrated with Qatar Post back end tracking system.  Customers are given an option to pay by simply tapping their contactless bank cards on the PoS.
Commenting on the announcement of the new solution, Mr. Tarek Fawzi, QIB's Wholesale Banking Group General Manager said: "We are very proud to announce that this service will provide an easy, convenient and efficient solution to one of the biggest customer base in Qatar for a cashless mobile service for all users and clients. The digitize billing, and mobile scanning instrument offers an on-the-spot solution that meets Q-Post requirements with speed and safety which I am confident will pave the way to similar service to other government and private sector companies which is in tandem with the countries direction to digitalize all services with the ultimate objective of having a cashless economy."
On the new solution, Qatar Post Chief Operating Officer Mr. Hamad Al Fahida stated: "We recognize that a significant number of our daily local deliveries are being made with the requirement for payment on delivery.  Before the launch of this fully integrated QPay functionality, Qatar Post was forced to accept liquid cash from Customers before we could release parcels or mail items to them.  This in turn added a large degree of over processing and non-value added to our operations.  Now with the launch of this QPay solution, we are delighted to be able to offer our clients the convenience to settle their delivery payment using one of the major credit/ debit cards, including the option of contactless transactions, thus also maximizing on the health & safety aspect especially during the pandemic.  Equally, we expect to see a switch in consumer behavior from using liquid cash to card payment, with the positive effect of eliminating the need of double handling cash transactions whilst adding a fully automated, error-free, digitized billing and a system-driven approach to our payment on delivery offering.   We are happy to add our contribution towards Qatar 2030 vision for a digital society.
Mr. Nebil Ben Aissa, CEO of QPay International LLC, said: "We are very proud to introduce new innovations levering on the latest partnership with Qatar Post.  We aim to offer great benefits to all users by combining our innovative FinTech solutions with Qatar Post's progressive and digitally-enhanced offering for speed and accuracy of delivery.  We have enabled for a fully automated delivery process that allows for convenient, safe and secure payments-on-delivery, digitally using Visa, Mastercard and Amex cards. Our initiative with Qatar Post to offer 100% cashless functionality with digitized billing and other delivery services are a great demonstration of our relentless commitment to digitizing the Qatari society and removing paper cash from circulation.  Such initiatives are aligned with Qatar's 2030 vision for a paperless and digital society, as well as aiming at preparing the Qatari small business community to offer digital solutions for all Qatari Citizens, residents and merchants."
In 2018, QIB launched the first Islamic Point of Sales & Online Payment Gateway solutions in collaboration with QPay. This solution was introduced to serve QIB's corporate customers and support their business banking needs. Developed by Android smart technology, the Islamic PoS solution provides innovative, secure, and highly efficient payment processing services.  The new PoS supports contactless card transactions, eWallet, mobile PoS (mPOS), QR code scanner and online billing and settlement.