QFA Reaches Out to Students to Back the National Team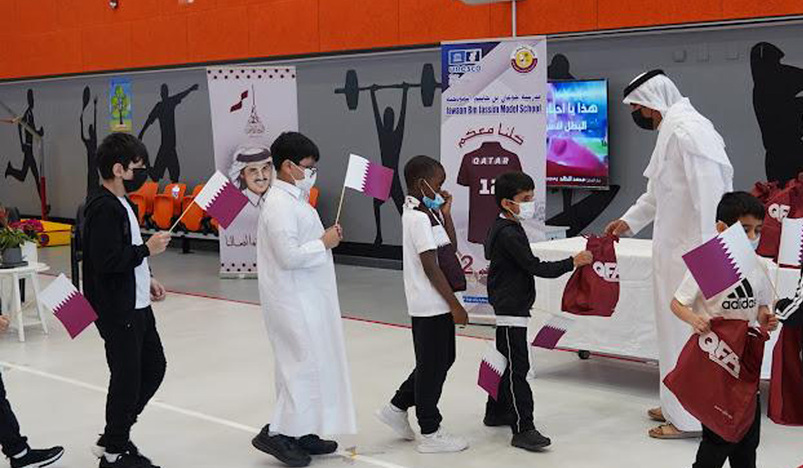 Qatar Football Association has launched its marketing campaign
The Qatar Football Association (QFA) has launched its marketing campaign to support the national team in the FIFA Arab Cup Qatar 2021.
QFA's Director of Marketing and Communications Department Khalid Al Kuwari and his delegation visited Al Khor Model School, Al Quds Model School and Joaan Bin Jassim Model School to galvanize support for the national side.
The visits are aimed to communicate with school students and enhance cooperation between QFA and educational institutions, QFA is keen to invite students to attend the national team's matches in the Arab Cup to be hosted in Doha from November 30 to December 18.
"There is no doubt that the activities, events, permanent cooperation between QFA and schools, and the continuous communication among them comes within the framework of QFA's vision linked with social responsibility," Al Kuwari said.
"This time, we are reaching out to schools since we have the FIFA Arab Cup to be played here. The regions best teams will join Qatar, and we are expecting exciting matches." he added.
Qatar are in Group A along with Bahrain, Oman and Iraq.
"During our visits, we explained to the kids how to get their tickets and how to make their way to the match venues, we also told them about Fan IDs that they need to enter the venues." he said.
"The school tours are being conducted on the directives of QFA President Sheikh Hamad bin Khalifa bin Ahmed Al-Thani, we are spreading our marketing campaigns on social media platforms also." he said.
The QFA team engaged the teachers at all the schools they visited and received positive feedback on the national team and the event.
Qatar open their FIFA Arab Cup campaign on November 30 against Bahrain at Al Bayt Stadium, Qatar take on Oman on December 3 at Al Thumama Stadium, followed by a match against Iraq on December 6 at Al Bayt Stadium.
QFA aims to continue its partnership with ministries, authorities and civil society institutions, and seeks to link football to all segments of society, especially children, who are among the important segments targeted by the federation in all its activities and events.
SOURCE: QNA