QC Continues Providing Relief Aid to Turkiye-Syria Earthquake Victims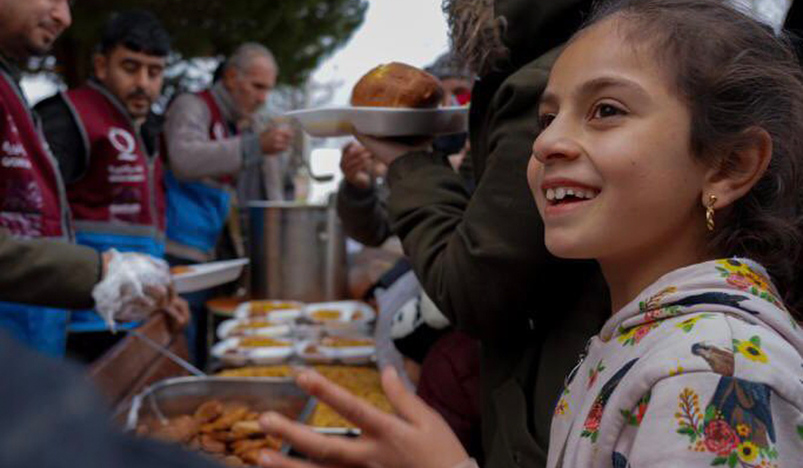 Qatar Charity
Qatar Charity's (QC) field teams currently present in Turkiye, continue to distribute aid to the Tukey-Syria earthquake victims in many affected areas, to contribute to meeting their urgent needs, It inspected the conditions of the affected people and assessed needs.
The delegations carrying out these relief missions included Qatar Charity CEO Yousef Ahmed Al Kuwari, and a number of its officials.
The QC CEO participated in distributing ready-to-eat baskets to the displaced in the Hatay region and inspected the charity kitchens and a number of affected areas.
Al Kuwari also examined the conditions of the affected people in the camps for the displaced.
On the sidelines of his visit, Qatar Charity CEO Yousef Ahmed Al Kuwari said that what is being witnessed is painful and that it is a must to stand by those affected by the earthquake in Turkiye and Syria. He added that he has been in humanitarian work for nearly 10 years now, yet he has not seen such destruction in his life.
QC's field teams in Turkiye continue to distribute more than 30,000 hot meals in Kilis, Gaziantep, Hatay, Reyhanli and Iskenderun.
Each of QC's bakeries in the Reyhanli and Kilis regions produces 10,500 bread bundles per day, which are distributed to the affected people in all regions of Hatay.
In addition, 500 tents are being prepared to be distributed to the affected people in Gaziantep and the Syrian interior.
In northern Syria, QC started operating 8 health centers for 12 months, at an estimated cost of more than QR 7,000,000.
The QC bakery, which is operating at its maximum capacity, produces more than 5,000 bundles of bread daily, in addition to 2,500 bundles of bread allocated to those affected in the shelter center in Jenderes, which houses 400 families.
QC has also supported kitchens with municipalities in Gaziantep and Urfa, where 22 metric tons of food were provided to prepare 45,000 ready-to-eat meals to be distributed to the affected people in Sanliurfa, in addition to providing 34.4 metric tons of food to prepare ready-to-eat meals for those affected in Gaziantep.
In addition to the distribution of relief materials via the air bridge, which was delivered to the Turkish Disaster and Emergency Management Presidency (AFAD), which consisted of 15.4 metric tons of winter blankets (about 3,846 blankets), and 30 metric tons of foodstuffs.
QC has also established a field camp to house orphans and their families, numbering 100 families, in Hayati Harrani, south of Sanliurfa.
Out of its concern for those it sponsors, QC field teams have been communicating with those sponsored by the organization since the occurrence of the disaster, checking on their conditions diligently to ensure their safety, identify all their needs and provide those needs as soon as possible.
QC is currently studying relief projects represented in distributing personal hygiene packages, operating municipal kitchens, providing 2 mobile kitchens in Turkiye and 2 in Syria, and distributing 6,000 meals per day, in addition to providing hospital fuel among others.
(QNA)