QC Chairman Meets French Businessmen Delegation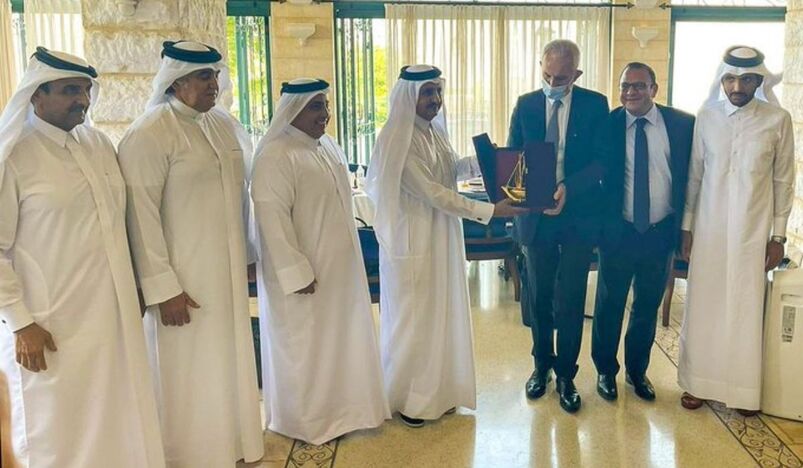 QC Chairman Meets French Businessmen Delegation
HE Qatar Chamber's (QC) Chairman Sheikh Khalifa bin Jassim Al-Thani met with a businessmen delegation from the Qatari-French Economic League (Cadran) and the international branch of the Movement of the Enterprises of France (MEDEF), who are visiting the country.
The meeting was also attended by HE Qatar's Ambassador to France Sheikh Ali bin Jassim Al-Thani, alongside a number of QC board members and many leading Qatari businessmen.
During the meeting, both parties reviewed commercial and investment relations between Qatar and France and ways to enhance them, and investment opportunities available in both countries as well as the possibility to establish new commercial alliances.
HE Shiekh Khalifa underscored the Chamber's interest in strengthening cooperation relations between Qatari businessmen and their French counterparts in a way that helps increase the two countries bilateral trade which stands at QR 5 billion ( 1.2 billion) last year.
HE QC Chairman said that France is an important trade partner to Qatar, adding that there are many Qatari investors and businessmen in France which is characterized by an attractive investment environment and viable opportunities.
HE QC Chairman also assured the role played by Cadran and MEDEF in bridging Qatari and French private sectors and establishing a solid foundation for forging alliances and commercial partnerships between companies from both countries.
Cadran is an independent, non-profit organization established in 2015 that includes in its membership major Qatari commercial institutions operating in France and major French companies operating in Qatar, as well as significant figures. It aims to organize various academic and social events annually to promote dialogue and exchange of views between Qatari and French companies to gain a better understanding and comprehension of future investment projects.
MEDEF is an employer federation founded in 1998. It represents French companies and is greatly important at the level of the French social debate. It seeks to represent French companies vis--vis State institutions and unions. It has more than 750,000 member firms. (QNA)