Qatar's Sheikha Asma summits another tough mountain; fourth this year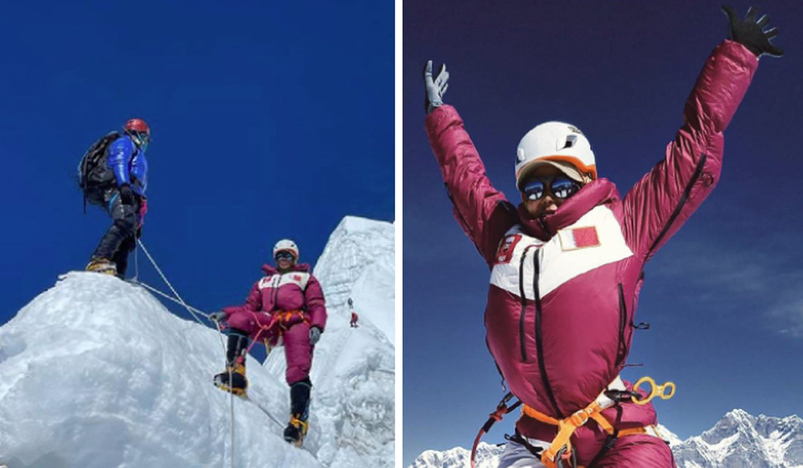 Sheikha Asma Al Thani
Qatar's Sheikha Asma Al Thani has conquered yet another "tough mountain" as she scaled the 6,812-metre Ama Dablam peak in the Nepal Himalaya. This is her fourth summit this year.
The Director of Marketing and Communications at the Qatar Olympic Committee reached the Ama Dablam peak on Monday (November 8) at 10 am, becoming the first Qatari woman to do so.
"We made it! We summitted the beautiful Ama Dablam "Mother's Necklace" at 10 am (on Monday)," Sheikha Asma wrote on her Instagram page.
"It was a tough mountain to climb, highly technical in extreme altitude, but nevertheless we ascended higher. This mountain is all about teamwork, helping each other, motivating each other and standing by each other when things get tough!"
"Congratulations! Qatari mountaineer Sheikha Asmaa Bint Thani Al-Thani reaches Ama Dablam summit with a height of 6,812m. It's our champion's fourth summit this year, making her the first Qatari female to summit Mount Amadablam," Team Qatar said.
Known as one of the most beautiful mountains in the world, the peak was once described by Edmund Hillary as being "unclimbable".
Ama Dablam means 'Mother's Necklace' in Sherpa because its summit makes the mountain look like a mother hugging her young, and the 'dablam' is the massive hanging serac near the summit which looks like a holy locket.
Besides the sheer grandeur of the peak is its technical challenge with a knife-like ridge and a perpendicular face leading to the top. Added to that are the dangers of avalanches and rockfalls that have killed dozens of climbers.
Sheikha Asma recently scaled Mt. Dhaulagiri (8,167 m) in Nepal, the seventh-highest mountain in the world, weeks after conquering the Mt Manaslu (8,163), the eighth-highest peak, without supplemental oxygen.
Sheikha Asma began her journey as a mountaineer in 2014 by summiting Kilimanjaro, Africa's highest peak.
She has since climbed Argentina's Aconcagua, the highest mountain in the Americas, and skied to the North Pole.
Sheikha Asma hopes her feats will inspire other female climbers to follow in her footsteps.