Qatar's Royal Family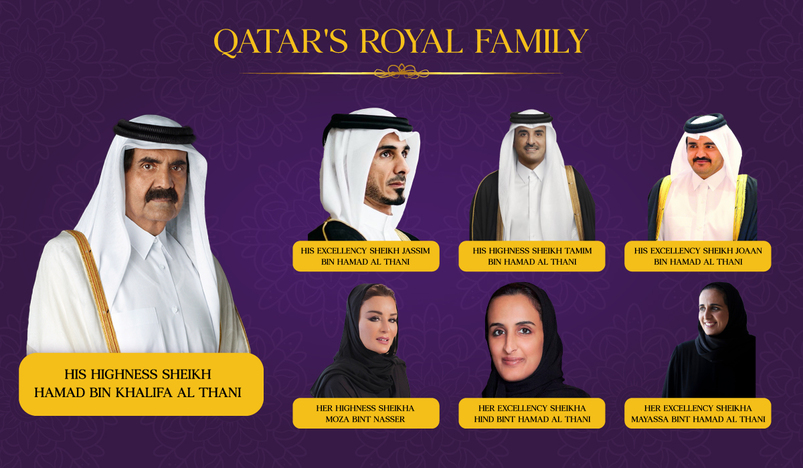 Qatar's Royal Family
1. His Highness Sheikh Hamad bin Khalifa Al Thani
Former Amir of the State of Qatar, one of its iconic leaders, and the architect of its modern revival. During his reign, which witnessed massive economic, social and cultural development, the State of Qatar extended its status among the Arab and international community. 
During his tenure, the country has seen immense progress in the economy and energy sector. The North Field gas production boomed, and liquefied natural gas exports started from it in 1996, resulting in a rapid increase in the country's earnings. In 2006, Qatar became the largest LNG exporter in the world, and in 2010 its LNG production capacity reached 77 million tons per annum.
On 25 June 2013, His Highness Sheikh Hamad handed over the reins of leadership to his Heir Apparent Sheikh Tamim Bin Hamad.
2. Her Highness Sheikha Moza bint Nasser
Her Highness Sheikha Moza bint Nasser, wife and consort of His Highness Sheikh Hamad bin Khalifa Al Thani, has spearheaded social and educational reforms in Qatar and around the world for many years through her ground-breaking initiatives in education and youth development.
She serves as Chairperson of Qatar Foundation for Education, Science and Community Development (QF), a private non-profit organization founded in 1995. Its flagship project, Education City, is a hub of academic excellence, housing branch campuses of renowned international universities and institutions. QF is also engaged in numerous scientific research and economic and social development projects.
3. His Highness Sheikh Tamim bin Khalifa Al Thani

On August 5, 2003, His Highness was appointed Heir Apparent and Deputy Commander-in-Chief of the Armed Forces.
HH had a remarkable and constructive contribution to Qatar National Vision 2030, as he was entrusted by HH The Amir at the time to chair the Supreme Committee for planning the vision of the country until launched in 2008. HH The Amir is still following up on the implementation of the vision at the present.
Upon assuming his duties as Amir of the State of Qatar, His Highness became the Head of State and Supreme Commander of the Armed Forces, in addition to his chairmanship of the Supreme Council for Economic Affairs and Investment, the Supreme Committee for Delivery and Legacy, and the National Security Council.
During his tenure, the state of Qatar obtained high ranks in the international and regional indicators. It is ranked first in capital flows, political and legislative areas, gross domestic product per capita and low unemployment rate.
On the regional level, Qatar has ranked first in the Higher education Quality report, humanitarian affairs, global peace index, and human development index.
4. His Excellency Sheikh Jassim bin Khalifa Al Thani
Jassim bin Hamad bin Khalifa Al Thani is the former heir apparent of Qatar. 
Jassim was the personal representative of the former emir. Sheikh Jassim is also honorary president of the Qatar National Cancer Society (QNCS) since 1997. Furthermore, he has been chair of the high committee for coordination and follow up since 1999, chair of the supreme council for the environment and natural resources since 2000. He is also patron of Aspire Academy since 2003. He is a member of the Board of Trustees at Qatar Foundation.
5. His Excellency Sheikh Joa'an bin Hamad bin Khalifa Al Thani

Sheikh Joaan bin Hamad bin Khalifa Al Thani is a senior member of the House of Thani. In May 2015, he was appointed president of the Qatar Olympic Committee. He served as president of the Organising Committee of the 24th Men's Handball World Championship Qatar 2015.
Sheikh Joaan bin Hamad is chairman of the Doha 2030 Asian Games Bid Committee which won the bid for the 2030 Asian Games.
6. Her Excellency Sheikha Mayassa bint Khalifa Al Thani
Al-Mayassa serves as Chairperson of Qatar Museums, and it was reported by Bloomberg that her annual acquisition budget on behalf of the organization is estimated at $1 billion. Sheikha Al-Mayassa is the chairperson of the Doha Film Institute (DFI), which she founded in 2010. The institute partnered with the Tribeca Film Festival to produce several annual iterations of the Doha Tribeca Film Festival. In February 2013, they announced a $100 million feature film fund with Participant Media, a production company founded by billionaire Jeffrey Skoll, who was the first employee and first president of internet auction firm eBay.
7. Her Excellency Sheikha Hind bint Khalifa Al Thani
As Vice Chairperson and CEO of Qatar Foundation (QF), Her Excellency Sheikha Hind bint Hamad Al Thani spearheads its mission to support the economic and social development of Qatar, through initiatives and programs in three core areas: education, science and research, and community development.
Her Excellency serves on the boards of several education and cultural institutes, including Hamad Bin Khalifa University, Qatar National Library, HEC Paris – as a member of its International Board - Teach for Qatar, and Oxford Centre for Islamic Studies, as a member of its Board of Trustees. In 2022, Her Excellency was appointed to the International Olympic Committee's Olympic Education Commission.