Qatar's pavilion at "Floriade Expo 2022" in the Netherlands entered Guinness World Records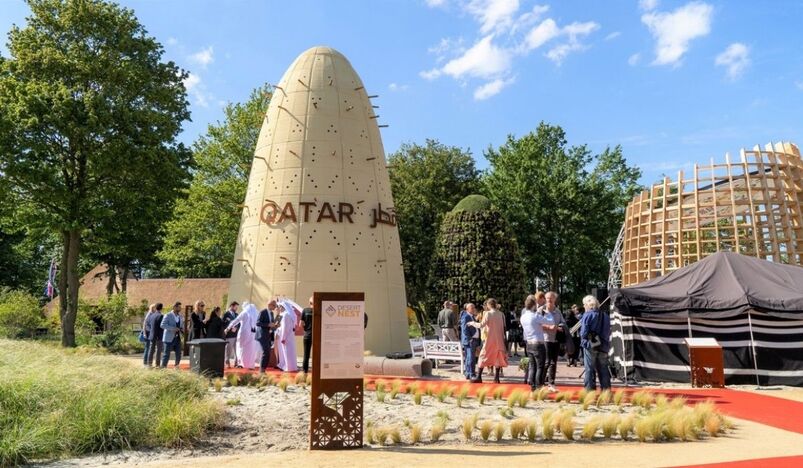 Qatar's pavilion at Floriade Expo design is inspired by pigeon towers
The State of Qatar pavilion participating in "Floriade Expo 2022" in the Netherlands, which is organized by the Ministry of Municipality, received a certificate from Guinness World Records, for the "Tallest tower made of 3D printed concrete".
The certificate was received by Engineer Mohamed Ali Al Khoury, Commissioner-General of the Qatari Pavilion in Floriade, in the presence of HE Nasser Bin Ibrahim AI Langawi, Ambassador of The State of Qatar to the Kingdom of the Netherlands, HE Mr. Leen Verbeek, King's Commissioner for the Province of Flevoland, Mrs.Ank Bijleveld, Governor of Almere, Mr. Bernard Oosterom, President of the International Association of Horticultural Producers (AIPH), Mr. Tim Briercliffe, General Secretary of the Association, Mr. Hans Bakker, Executive Director of the Floriade Expo 2022, and a number of senior officials and accredited ambassadors to the Netherlands.
It is worth noting that the design of the pavilion was inspired by the "pigeon towers", in which new 3D printing techniques and sustainable materials were used to emphasize Qatar's vision, development, and innovations to make the desert greener in order to achieve green Cities.
The tower is 12.1 meters long, weighs 56 tons, and took 107 hours to complete in 11 days.   
Source: Ministry Of Municipality