Qatar's Amir expresses happiness over the historic achievements of Team Qatar in the Tokyo Olympics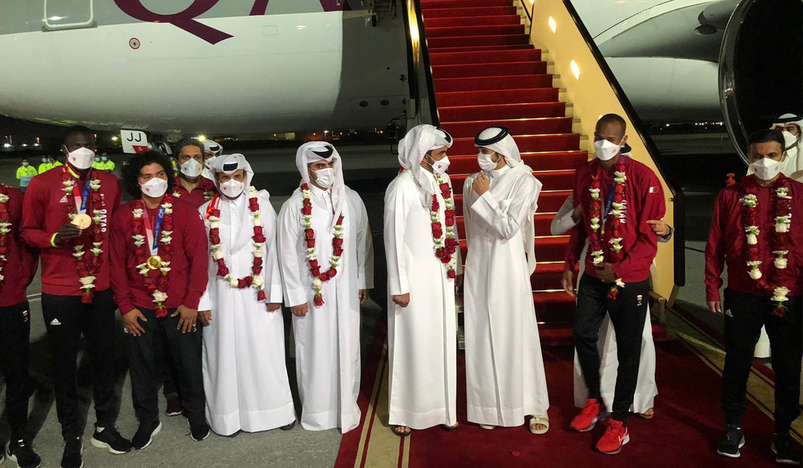 Team Qatar
The Amir, H H Sheikh Tamim bin Hamad Al Thani, has expressed his happiness over the historic achievements of Team Qatar athletes at the Tokyo Olympics.
In a tweet, the Amir said: "We are pleased with the historic results that our team achieved by winning the gold and bronze medals. We congratulate our Olympic Committee for these honourable results in their participation in the Tokyo Olympics 2020."
The Qatari Olympic delegation arrived in Doha on Saturday to a rousing welcome after the historic participation in the Tokyo 2020 Olympics.
Personal Representative of the Amir, H H Sheikh Jassim bin Hamad Al Thani, led the well-wishers to welcome Team Qatar Olympic mission (Al Adaam), which was crowned two gold medals in high jump and weightlifting and a bronze medal in beach volleyball at Tokyo 2020 Olympics, headed by Qatar Olympic Committee President H E Sheikh Joaan bin Hamad Al Thani, at Doha International Airport on Saturday.
Sheikh Jassim congratulated Qatar's champions on the great accomplishment, praising the outstanding performance and high sportsmanship of the champions in the Olympics, wishing them the best of luck in the coming international tournaments.