Qatar's World Cup is the Most Accessible for People with Disabilities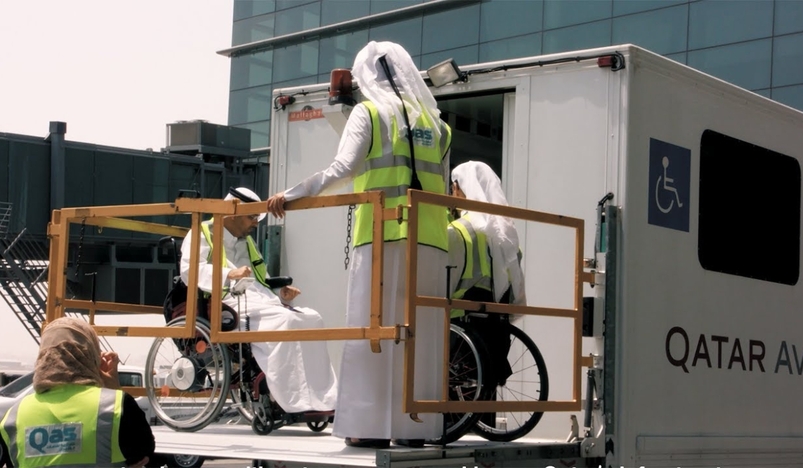 Qatar's World Cup is the Most Accessible for People with Disabilities
In order to make the FIFA World Cup Qatar 2022 one of the most inclusive events in history, Qatar has made sure that accessibility extends beyond the stadiums.
The Supreme Committee for Delivery & Legacy (SC) and Qatar Foundation (QF) specialists held a discussion regarding Qatar's goal of hosting the most accessible World Cup a few days before it began.
According to the experts, Qatar will mark a number of firsts for supporters with special needs, including the availability of audio descriptive commentary in Arabic and English at every game. Every match venue was constructed to strict accessibility standards, including accessible parking, seats, restrooms, and food stands. Three stadiums have sensory rooms for those with sensory access requirements.
Mark Dyer, the SC's accessibility and inclusivity strategist, participated in a panel discussion at the host country media center for the FIFA World Cup Qatar 2022 in Msheireb Downtown Doha. He discussed the response the event had received.
Dyer said "It is not just about going to a match, but there are lots of other areas that we needed to provide for. We have gone beyond looking at what we provide in the stadiums, and that creates a challenge because the more accessible seats we provide in matches, the more demand we create for us and for the rest of the country in terms of accommodation, transportation, and attractions,". 
"With added access, we have added participation, and this is a benefit not only to people with disabilities, but also for the community as we see the transition in the way we talk about accessibility," said an accessibility adviser at QF Nihal Al Saleh. "It is a journey, and there will be things that come up with we will address as we go along, but it is not the end of the story. It started before the World Cup, but will continue to go beyond that for a fully accessible Qatar and it will make a great case study for the world," she added. QF has contributed to the World Cup with its Ability Friendly Program, sensory rooms, audio-descriptive commentary of matches, the Accessibility Volunteers program, and the Qatar for All accessibility guide.
"As we were preparing for this World Cup, we were touching on areas that had not been addressed before. We started teaching and training experts that are now on the ground delivering services. We have seen the engagement of people with disabilities themselves – testing and trying, and helping us correct what was not perfect before," said Associate Dean for Social Engagement and Access at QF's Hamad Bin Khalifa University Professor, Joselia Neves.  She emphasised that the accessibility guide developed by the QF and available on the Hayya app in multiple forms helps persons with disabilities — residents and visitors alike — explore Qatar.
"We all enjoy football and events in different ways, so it is important to enable people who come from transport hubs and as they come to the metro and parking areas —making sure they can access the stadium in a safe and comfortable way, whether through tactile areas for those who may need sensory regulation in their way to the stadium, or by checking access from the mobility perspective," said Manager of Engagement and Activation at Education City, QF, Brooke Reid.