Qatari National Team Begins Local Camp Tomorrow's Training is Open to Public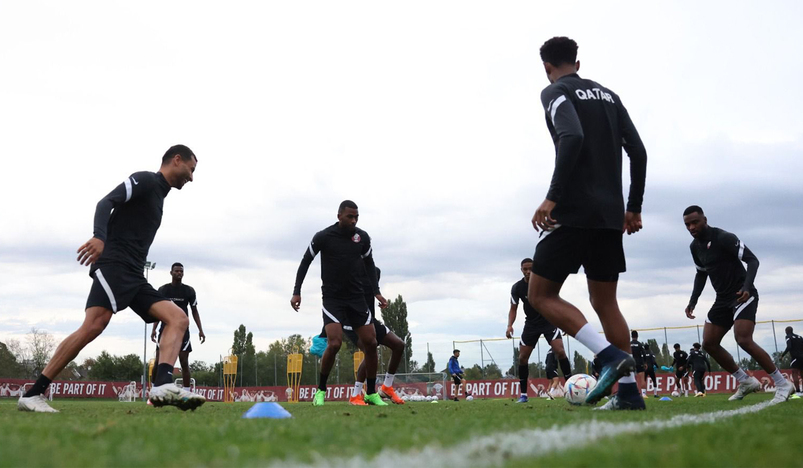 Qatari national football team
The Qatari national football team started, today, its local camp, which will continue until next Wednesday, as part of the preparations for the FIFA World Cup Qatar 2022, which will start from November 20 to December 18.
Qatar national team participated in a first training session at Jassim bin Hamad Stadium in Al Sadd Club, provided that the training continues tomorrow (Sunday) with a second training open to the public and the media, according to the invitation extended by Qatar Football Association for all to attend the training, in the context of providing communication between the team and the fans as part of the promotional campaign launched by the association to support the Qatari team in the World Cup.
The Qatari teams delegation will leave next Wednesday at the end of the short local camp, to the Spanish city of Marbella to enter a new camp there, and it will be an extension of the camps that started since last June in Spain and then Austria and continued until the twenty-seventh of last month.
The Qatari team had played three friendly matches in the Austrian capital, Vienna, during the suspension period listed on the FIFA agenda for the month of September, during which coach Sanchez on his formation of substitute players along with young elements, in order to give them the opportunity before settling on the final list that will compete in the World Cup and includes 26 players, which will be submitted to the International Federation, no later than Nov. 13.
The second test against the Canadian team was on the 23rd of last month at Villa Park in Vienna. The Qatari team also lost 2-0.
The recent appearance against Chile in the confrontation that took place last Tuesday at Villa Park also, which ended in a 2-2 draw, dispelled some fears about the level presented by the Qatari team in the first two matches, after regaining the image that the team used to present, showing a convincing performance while the match witnessed the remarkable brilliance of goalkeeper Meshaal Barsham.
(QNA)