Qatari adventurer scales Mount Elbrus, highest peak in Europe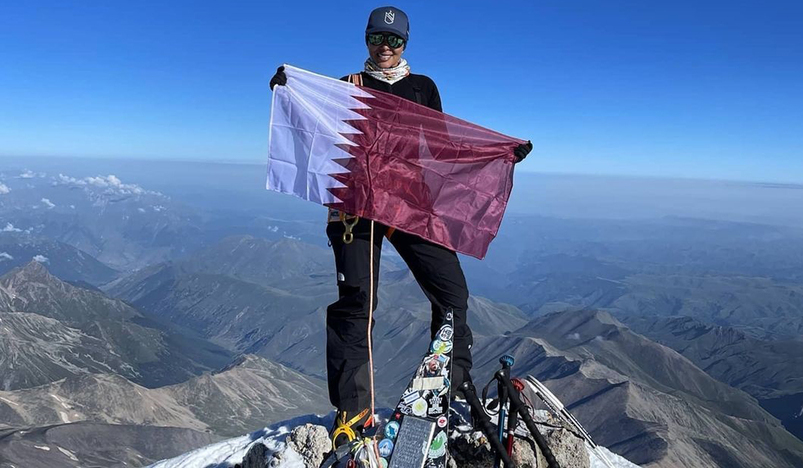 Sheikha Asma Al Thani
"Hello from the top of Europe," Sheikha Asma Al Thani wrote on her Instagram post as she announced a successful summit on Mount Elbrus, which at 5,642 metres is the highest peak in Europe.
Sheikha Asma, Director of Marketing and Communications at the Qatar Olympic Committee and an avid adventurer, is aiming to become the first woman from the Middle East to complete the Explorers Grand Slam, a challenge to reach the North Pole and South Pole as well as all of the seven summits (Everest, Aconcagua, Denali, Kilimanjaro, Vinson, Puncak Jaya, and Mount Elbrus).
Earlier this year, Sheikha Asma was aiming to climb Mount Everest but had to postpone the expedition due to extreme weather conditions.
"This year has been a challenging one for me. I spent the past couple of years planning for the highest summit, the top of the world. But this year it wasn't meant to be. It took a while for me to accept that I might have lost. The key though, win or lose, is to never fail," she wrote on her Instagram page as she shared photos of the successful climb. 
Four challenges conquered
To date, Sheikha Asma has conquered four of the challenges, including her recent feat in Mount Elbrus, Aconcagua in 2019, North Pole in 2018 and Kilimanjaro in 2014. 
In the same post, she also expressed her gratitude to the people who has helped her throughout her journey. She said: "I believe that things happen for a reason, we might not see it from the start. But I am grateful for the people I have met in this journey, people who have changed my life and will be part of my journey."
Sheikha Asma sets her sights on the future as she concluded her social media post and stated: "This is only the beginning! Watch this space! Time to make the magic happen!"