QatarEnergy signs FID with Chevron Phillips Chemical to Build $6bn Ras Laffan Petrochemicals Complex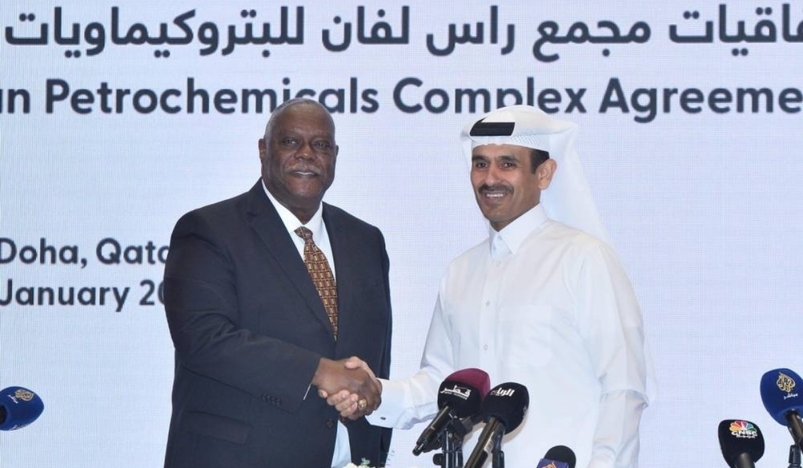 QatarEnergy to Build $6bn Ras Laffan Petrochemicals Complex
HE Minister of State for Energy Affairs, President and CEO of QatarEnergy Eng. Saad bin Sherida Al Kaabi and the President and CEO of Chevron Phillips Chemical (CPChem) Bruce Chinn signed the Final Investment Decision (FID) to build the Ras Laffan Petrochemicals complex - a $6 billion integrated olefins and polyethylene facility at Ras Laffan Industrial City.
The Ras Laffan Petrochemicals complex is expected to begin production of olefins and polyethylene in 2026. According to the FID, both sides established a joint venture company, in which QatarEnergy will own a 70% equity share, and CPChem will own a 30% share.
The Ras Laffan Petrochemicals complex consists of an ethane cracker with a capacity of 2.1 million tons of ethylene per annum, making it the largest in the Middle East and one of the largest in the world. It also includes two polyethylene trains with a combined output of 1.7 million tons per annum of High-Density Polyethylene (HDPE) polymer products, raising Qatar's overall petrochemical production capacity to almost 14 million tons per annum.
QatarEnergy also announced the award of the engineering, procurement, and construction (EPC) contract for the ethylene plant to SCJV, a joint venture company between Samsung Engineering Company Ltd. of South Korea and CTCI of Taiwan. The EPC contract for the polyethylene plant was awarded to Maire Tecnimont of Italy, while Emerson of the USA was awarded the main automation contract.
In remarks at the signing ceremony, HE Minister Saad bin Sherida Al Kaabi said that QatarEnergy announced the FID to build the Ras Laffan Petrochemicals project, a $6 billion integrated olefins and polyethylene complex at Ras Laffan Industrial City, in partnership with Chevron Phillips Chemical Company.
"This marks QatarEnergy's largest investment ever in Qatar's petrochemicals sector and the first direct investment in 12 years. It will double our ethylene production capacity, and increase our local polymer production from 2.6 to more than 4 million tons per annum, and place the utmost emphasis on sustainable growth and the environment," His Excellency said.
"There is no doubt that this cornerstone investment in Ras Laffan Industrial City marks an important milestone in QatarEnergy's downstream expansion strategy. It will not only facilitate further expansion in the downstream and petrochemical sectors in Qatar, but will also reinforce our integrated position as a major global player in the upstream, LNG, and downstream sectors.
This will be further enhanced once the new world-scale petrochemical project in Orange, Texas, in the United States of America comes online in partnership with Chevron Phillips Chemical, executed by our joint venture Golden Triangle Polymers Company" His Excellency added. 
HE Minister Al Kaabi concluded his remarks by saying: "We are delighted to enter into this exciting new venture with Chevron Phillips Chemical – a leading and highly respected international petrochemicals company, and a long-term partner with whom we have achieved many successes together building and operating plants safely and efficiently for more than 20 years. Together, our large and diverse portfolio will not just help meet the world's growing needs for advanced plastics and petrochemicals, but will also enable balanced growth and facilitate human development in a responsible and sustainable manner."
For his part, Bruce Chinn said that this investment would help meet the global demand for polyethylene products, and CPChem is excited to expand its long and successful history with QatarEnergy to build and operate world-class facilities safely.
He added that the building of the project would be carried out using modern energy-saving technology while using ethane as a raw material, which is expected, in addition to other measures, to lead to decreasing greenhouse gas emissions compared to similar global facilities.
Chin explained that CPChem, which will provide project management services, actually started work at the site in June 2022, and the project is expected to start operating in late 2026.
This FID comes less than two months after QatarEnergy and CPChem took the FID to execute the $8.5 billion Golden Triangle Polymers Plant on the US Gulf Coast in Texas. In addition, QatarEnergy and CPChem operate other joint ventures in the State of Qatar.
QatarEnergy is an integrated energy company committed to the sustainable development of cleaner energy resources as part of the energy transition in the State of Qatar and beyond. A world leader in Liquefied Natural Gas (LNG) - a cleaner, more flexible, and reliable source of energy, and an integral partner in the global energy transition.
QatarEnergy activities cover the entire spectrum of the oil and gas value chain and include the exploration, production, processing, refining, marketing, trading, and sales of energy products and commodities.
QatarEnergy is committed to building a better and brighter future by helping meet today's energy needs, while safeguarding the environment and natural resources for generations to come, bound by the highest standards of sustainable human, socio-economic, and environmental development.
Based in Texas, USA, Chevron Phillips Chemical is one of the world's top producers of olefins and polyolefins. Chevron Phillips Chemical and its affiliates own nearly $18 billion in assets, including 31 manufacturing and research facilities in six countries.
(QNA)