QatarEnergy and Shell to Pursue Joint Investments in Hydrogen Solutions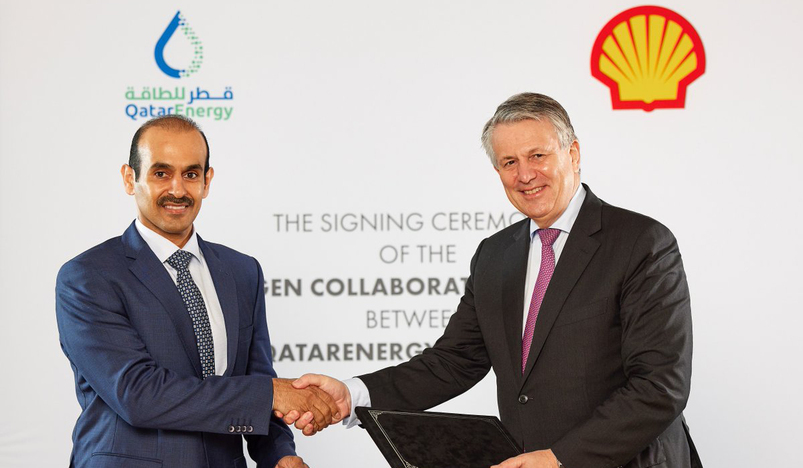 QatarEnergy and Shell have signed an agreement
QatarEnergy and Shell have signed an agreement to pursue joint investments in blue and green hydrogen projects in the United Kingdom.
The partners will target integrated and scalable opportunities in key sectors where hydrogen could help decarbonize, especially around industrial cluster development and also for the transport sector, with a focus on the London metropolitan area. The collaboration will exploit both companies expertise in delivering large and technically complex energy projects.
The agreement was signed on the sidelines of the UK Global Investment Summit, hosted by HM The Queen and the Prime Minister, and attended by the worlds leading businesses and investors in the UK.
Commenting on the agreement, HE Minister of State for Energy Affairs, the President and CEO of QatarEnergy Saad Sherida Al Kaabi, said, "This agreement does not only reinforce the long lasting and strategic partnership between QatarEnergy and Shell, but also creates a viable path for innovation and investments in low carbon fuels and technologies across the UKs energy sector, a key area of investment for QatarEnergy. This agreement also builds on QatarEnergys commitment to provide reliable access to cleaner energy globally."
For his part, CEO of Royal Dutch Shell plc Ben Van Beurden, also commented, "I am delighted to deepen an already strong relationship with QatarEnergy. Hydrogen will play an important role in helping society reach net zero and momentum is growing. QatarEnergys expertise, in collaboration with Shells, will support the UKs energy transition and help propel this fast-growing sector."
This is the first agreement on hydrogen between QatarEnergy and Shell. It establishes an important framework for collaboration and joint investment to develop hydrogen solutions in the United Kingdom.
SOURCE: QNA