Qatar working to open humanitarian corridors for aid to Afghanistan, official says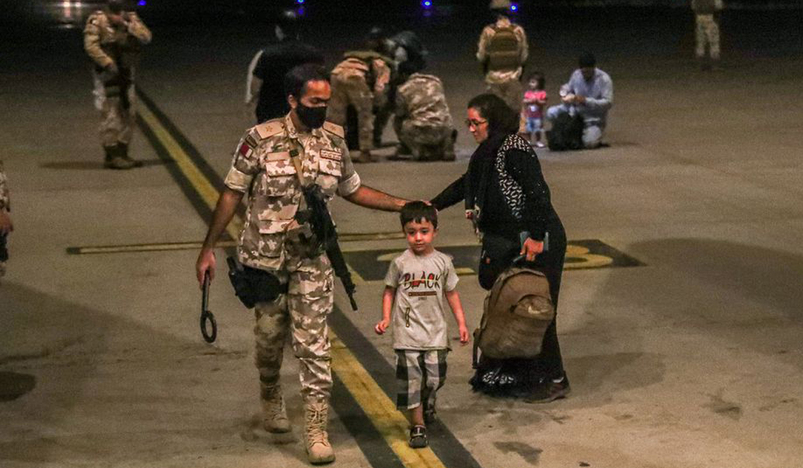 A member of the Qatar Air force walks next to a boy evacuated from Afghanistan, at Al-Udeid airbase in Doha, Qatar in this recent undated handout. Government Communications Office of the State of Qatar/Handout via REUTERS
Qatar is working to facilitate the opening of humanitarian corridors to get aid into Afghanistan, a Qatari foreign ministry official said on Friday.
Qatar was engaging with the Taliban to ensure a peaceful transition of power to an inclusive and effective government, special envoy H E Dr. Mutlaq bin Majed Al Qahtani said in a statement.
Al Qahtani arrived in Kabul on Friday to hold talks on forming an inclusive Afghan government and reopening of the Kabul airport, said a Qatari source familiar with the visit.
Humanitarian corridors to Afghanistan to open soon
Special Envoy of the Minister of Foreign Affairs for Counterterrorism and Mediation in Conflict Resolution H E Dr. Mutlaq bin Majed Al Qahtani has said that Qatari efforts to operate Kabul Airport are continuing.
He expressed hope to open humanitarian corridors within 24 or 48 hours for the entry of humanitarian aid and landing of more aircraft to Kabul and other airports in Afghanistan.
Al Qahtani yesterday arrived at Kabul Airport on a Qatari plane — the third to land at the airport within two days —carrying technicians, devices and mechanisms that help improve the airport's situation and restart it as soon as possible, Al Jazeera reported.
Talking to Al Jazeera, he said that Qatari efforts are focused primarily on ensuring the safety and security of air navigation in Afghanistan, and that Qatari technicians and experts have made great efforts during the past two days. "The work is still ongoing, and its results will appear after we see planes landing at the airport." 
Al Qahtani stressed that these efforts also seek to guarantee freedom of movement and travel for foreigners or Afghans who have the necessary documents to do so. 
"Qatari efforts are still ongoing, and we still have logistical and technical challenges. We have fixed many of these issues, and work is still underway to fix the rest," he added.
With regard to political issue, Al Qahtani said: "We want to talk with the Taliban on some issues, in particular with regard to the peaceful transfer of power and that there will be a political settlement and sustainable peace to be achieved in Afghanistan."
Meanwhile Assistant Foreign Minister and Spokesperson for the Ministry of Foreign Affairs H E Lolwah bint Rashid Al Khater also talked to CNN yesterday on Qatar's technical team at Kabul Airport. 
Al Khater said: "It is upon the request of our international partners that we work with the power there on the ground in Afghanistan to resume the operations at the airport so that outbound flights as well as inbound flights can resume normally."
She added: "After many experts left the country and after the operators, many of them were foreigners, and companies fled the country, the Taliban left with very little expertise to run the airport."
She said it was one aspect while the other aspect was that many of the equipment were damaged or were taken and there was blame game between different parties on the ground. 
"Our technical team there is basically to facilitate, working with international partners, resumption of operations at the airport," the Assistant Foreign Minister said. She added that security of the airport remained a debated topic. "Security will not be with us."
To another question, she said that there was consensus in the meeting of G7, Turkey, Qatar, EU and Nato about need for constructive engagement with the Taliban simply because they were the de-facto authority in Afghanistan. "In terms of our role, we are mediating and also facilitating the discussions between the Taliban and international partners." 
Assistant Foreign Minister said that many EU missions, and the missions of the US, Japan and South Korea will relocate to Doha (from Afghanistan) and it will be a chance to facilitate a real discussion around the contested issues as well as facilitating all operations for (evacuation) of citizens of these countries and citizens of Afghanistan.