Qatar University to Host Qatar CSR Summit and Exhibition on May 16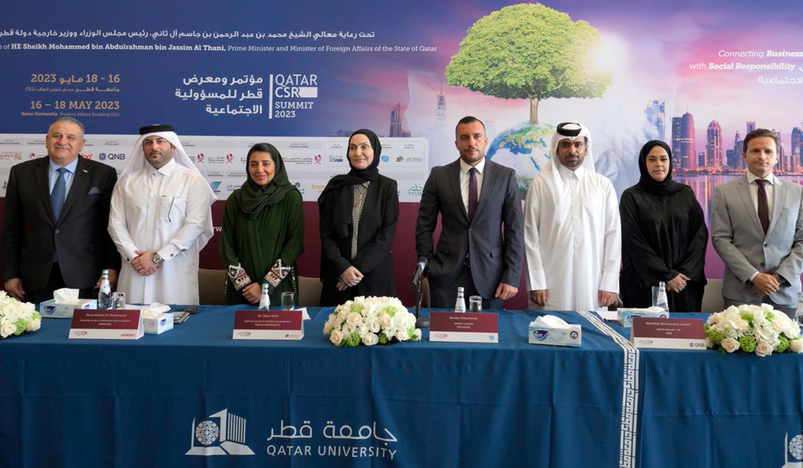 Qatar CSR Summit
Under the patronage of HE Prime Minister and Minister of Foreign Affairs Sheikh Mohammed bin Abdulrahman bin Jassim Al-Thani, Qatar University will host Qatar CSR Summit and Exhibition from May 16 to 18.
The event will see a wide participation of several public and private entities, including ministries and private sector companies that all agree on the importance of corporate social responsibility for the future of society and business alike.
The conference's topics cover business education and societal impact, ESG, sustainability, circular economy, CSR from an Islamic perspective, SDG, and many other important topics through a series of presentations, papers, and panel discussions in which a group of experts and academics from Qatar and the world will participate.
During a press conference held today and attended by representatives of event's sponsors and supporters, Dean of the QU College of Business and Economics, and Chairman of the steering committee for the conference Dr. Rana Sobh said that the QU has made sure that this event acts as an accelerator for the university's goals in pushing forward a sustainable business model in Qatar.
She added the conference's agenda with the topics it covers and the speakers that will be contributing raises awareness about corporate social responsibility among all stakeholders, including academics and scholars, students, business owners, and the community in general.
In addition to the academic exchange it will allow, the conference will also provide a platform for the pioneering national companies leading the CSR efforts in the country to introduce their activities in this field and showcase the best practices that allowed such companies to integrate CSR into their core business.
With the addition of the summit and exhibition to the activities of the program, the 10th edition of Qatar CSR National Program will include the Qatar CSR National Report which documents the achievements of national organizations in this field. It will also honor the winners.
The organizing committee announced that the Awards program received close to 100 applications, out of which 30 will be awarded across different categories. The ceremony will also pay recognition to the event's sponsors and supporters.
(QNA)