Qatar-Turkey relations will continue with greater momentum in next stage says Turkish Leader Erdogan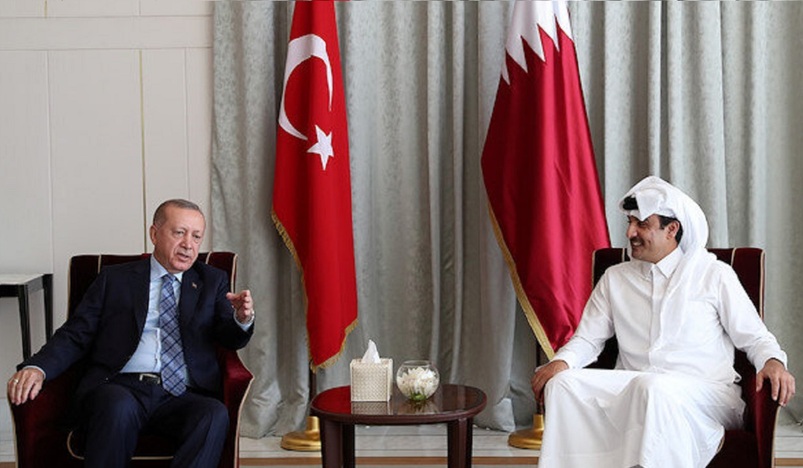 Turkish President Tayyip Erdogan & Emir of Qatar Sheikh Tamim bin Hamad al-Thani
Turkish President H E Recep Tayyip Erdogan has affirmed that the bilateral relations between his country and the State of Qatar will continue with greater momentum in the next stage, stating that besides Qatar, we are working to develop our relations with all other Gulf countries.
Erdogan indicated during a press conference at Ataturk Airport in Istanbul, before heading to an official visit to  Qatar, that Turkey would work to strengthen relations with the Gulf states for the interest of all parties, and the diplomatic talks will have repercussions on Turkey and the country's economic well-being.
Erdogan noted that the projects implemented by Turkish businessmen in Qatar amounts to about $15 billion.
The Turkish leader arrived yesterday in Doha to  chair his country's delegation to the 7th meeting of  Turkey-Qatar Supreme Strategic Committee. 
His Excellency and the accompanying delegation were welcomed upon arrival at the Doha International Airport by Minister of Finance H E Ali bin Ahmed Al Kuwari, Ambassador of Qatar to Turkey H E Sheikh Mohammed bin Nasser Al Thani, and Ambassador of Turkey to Qatar H E Dr. Mustafa Goksu.
Turkish President welcomed the diplomatic efforts to reopen dialogue channels and clear up misunderstandings in the Gulf region. He added that we support the continuation of our ties and solidarity with all Gulf countries by strengthening future relations."
He explained his visit to Qatar to attend the 7th meeting of the Supreme Strategic Committee between the two countries and expressed his confidence that bilateral and delegation-level talks would be very successful. 
"In 2014, we started with our first steps in order to hold the first meeting of the Strategic Committee, the first meeting was held in Doha in 2015 and relations between Turkey and the State of Qatar are getting stronger day by day from a strategic perspective in line with the history and capabilities of the two countries, stating that within the framework of the mechanism of the Supreme Strategic Committee, we have so far signed 69 political, military, economic and cultural documents with Qatar. Thanks to these agreements, we have moved our cooperation to advanced stages, and we will strengthen it further through the new agreements that will be signed during the 7th meeting on Tuesday," Erdogan added.
The Turkish President affirmed that Turkey and Qatar have maintained their strong positions in the face of the regional challenges they faced in recent years.
Source: Qatar News Agency