Qatar Tourism Unveils Ultimate Line-up of Events and Experiences for Eid 2023 Festivities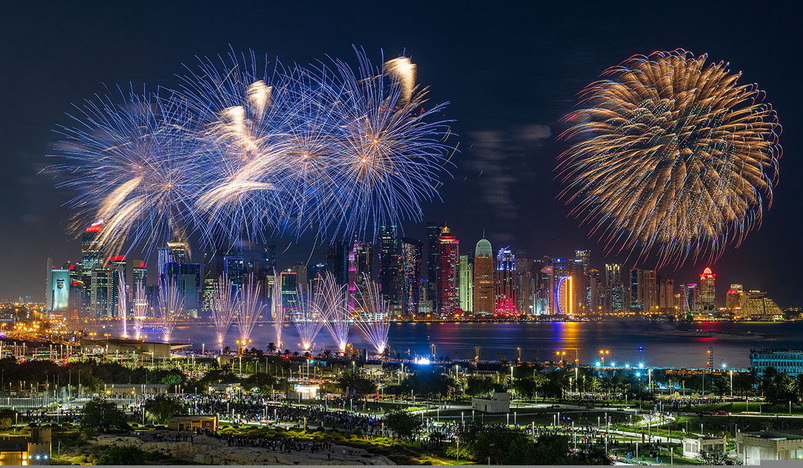 Events for Eid 2023
From music concerts with regional superstars, to spectacular nightly fireworks displays, residents and visitors are invited to 'Feel Eid in Qatar' this year, with a varied and family-friendly roster of events and activities.
Qatar Tourism, in partnership with Qatar Airways, announces an exciting calendar of lively and family-friendly events to mark the joyous occasion of Eid, as part of its 'Feel Eid in Qatar' campaign (April 21 – 23).  
Ranging from spectacular music concerts with the region's most revered artists, to fun-filled children's shows, residents and visitors are sure to find something to suit their preferences amongst the action-packed weekend of activities.
In addition, residents and visitors searching for an Eid staycation or holiday will find plenty of options among Qatar's varied and world-class collection of hotels. Offers on Eid can be found on Qatar Tourism's page visitqatar.com/eid. Moreover, leading entertainment venues will take part in various Eid festivities, such as Lusail Winter Wonderland, which will re-open during Eid for families to enjoy. 
Commenting on the line-up of Eid festivities, Sheikha Hessa Al-Thani, Head of Marketing and Planning at Qatar Tourism said: "Following the triumphant success of our 'Feel Winter in Qatar' campaign, Qatar's tourism sector has seen an incredible start to the year and we are delighted to maintain this positive momentum with our exciting programme of activity for Eid 2023 celebrations. We invite our residents to enjoy the festivities taking place in the country and regional neighbours to visit and feel the true spirit of Eid in Qatar this year." 
Three Nights of the Region's Best Music 
April 21 – 23, Al Mayassa Theatre, QNCC
21:00 start time; 20:00 doors open 
Under Qatar Tourism's flagship programme, 'Qatar Live,' this Eid will see some of the region's most popular artists perform a unique tribute to Arabic music. 
Starting on Friday (April 21), Tamer Hosny will perform his medley of much-loved hits. Paired up with the electrifying DJ Rouge, the night is set to enthral local audiences with bespoke sets and energising live music. Tickets can be purchased here. 
Iconic artists Marwan Khoury and Najwa Karam lead the line-up for Saturday (April 22), which will celebrate the country's significant contributions to regional music. Tickets can be purchased here. 
And finally, Sunday (April 23) will bring a lively celebration of Khaliji music. A trio of the genre's most popular artists will perform their hits live to audiences at the beautiful Al Mayassa Theatre, including Qatar's very own Fahad Al Kubaisi, recent winner of Saudi Idol – Hames –, and Emirati singer Balqees, who made her mark on the FIFA World Cup Qatar 2022™ Official Soundtrack with 'Light The Sky.' Tickets can be purchased here. 
Daily Spectacular Fireworks Show
Every evening, Doha Corniche
At 21:00 throughout the weekend, the skies of Doha will light up with a dazzling firework show along the Corniche. 
Fun-filled Activities Across the Country 
Throughout Eid, various locations
All around Doha, Eid celebrations will be taking place. The much-loved kids' show, "Shaun the Sheep" is heading to Doha for three days at the Lusail Multipurpose Hall. At the same time, Asia Town will come to life with a Sports Festival and live stage shows by popular artists. 
With an array of entertainment options for all ages, Qatar's Eid 2023 festivities promises to be a truly unforgettable experience. 
For more inspiration on what to do and where to go during Eid, Qatar Tourism has launched a 'Qatar Calendar Eid Edition,' a special edition of its monthly Qatar Calendar featuring a curated round-up of the most exciting offers and festivities taking place throughout the country during this exceptional time of year. Follow @qatarcalendar on Facebook and Instagram for more.