Qatar Tourism revamps Visit Qatar website to a multilingual platform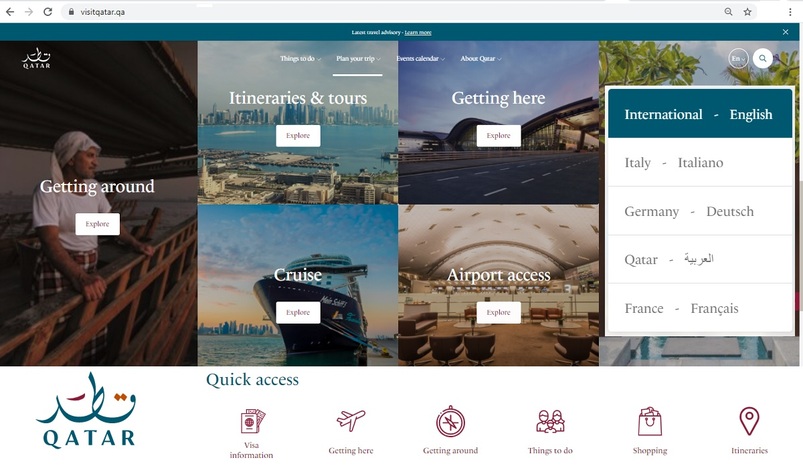 Visit Qatar now accessible in multiple languages
Qatar Tourism (QT) launched its Visit Qatar website in Arabic, targeting local and neighbouring markets, while providing an in-depth overview of Qatar's attractions and offerings.
As part of its broader digital push, QT has revamped its Visit Qatar portal, which is now also accessible in German, French, Spanish, and Italian, reaching audiences in their own languages with information and offers tailored to their specific markets.
The rollout occurs following the launch of QT's new marketing campaign – "Experience a World Beyond", which introduces audiences in major cities around the world to the country and its offerings.
These strategic initiatives come ahead of Qatar hosting the Arab Cup in December this year, and in preparation for the FIFA World Cup 2022.
Qatar as Travel Destination
Berthold Trenkel from QT said, "Qatar Tourism's digital transformation enables us to showcase the destination, and through immersive and compelling content, we aim to build a tourism brand identity for Qatar while inspiring visitation and in-country spend."
"The launch of the website in several languages will make it easier for visitors, stakeholders, and media to access information about the destination. As part of a larger digital plan, we continue to coordinate our efforts with partners and stakeholders to highlight the importance of digital in our current infrastructure, as well as to contribute to the reputation of Qatar as a significant travel destination," the QT official added.
Visit Qatar App
Apart from the website, Visit Qatar has a mobile application that offers a handy guide to the country's offerings.
The app furthermore introduces an integrated calendar of events, which allows users to explore events around Qatar and save them in a personal folder. 
This is part of the entity's wider digital transformation strategy, which employs an innovative approach and utilizes cutting-edge technology to develop its digital platforms and establish itself as an industry leader.
The app offers 360-degree views of iconic sites around the country, allowing users to immerse themselves in a neighborhood or view a site from the comfort of their own home. Users can use the map assistant to plan their stay, and enjoy personalized recommendations based on their preferences.
Travellers can use the Visit Qatar app to receive location-based recommendations and interactive features depending on their preferences in addition to the website.
Source: Qatar Tourism