Qatar Tourism's Hosts Annual Tourism Industry Ramadan Ghabga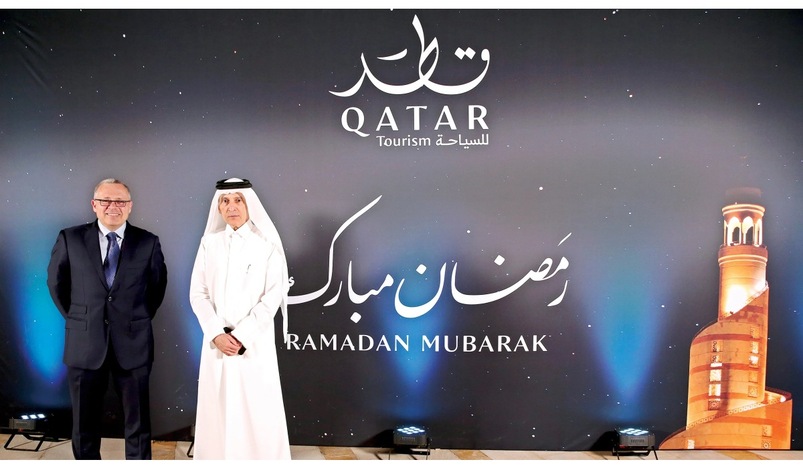 Akbar Al Baker at Qatar Tourism's Annual Tourism Industry Ramadan Ghabga.  
Qatar Tourism and Qatar Airways Group Chief Executive HE Akbar al-Baker was present at Qatar Tourism Annual Tourism Industry Ramadan Ghabga, which brought together officials and distinguished guests, public and private sector industry partners.
During the event Qatar Tourism announced its readiness to host the first Eid Festival ever from May 3-5 at the Doha Corniche.
The much anticipated 18th edition of the Doha Jewellery & Watches Exhibition 2022 (DJWE), will also be taking place right after from May 9-13 at the Doha Exhibition and Conference Centre.
Speaking on the occasion, Chairman of Qatar Tourism and Qatar Airways Group Chief Executive HE Akbar al-Baker said, "We are entering an exciting new chapter after a period of great difficulty in the tourism industry, thanks to the collaborative efforts and support from the Ministry of Public Health. We have successfully resumed all tourism activity in time to host the highly awaited FIFA World Cup Qatar 2022, and we have an exciting line-up of events for residents and visitors to Qatar to enjoy."
"Already, 2022 has kicked off with a promising start. Over the first quarter of the year, we've witnessed seven times increase in the number of visitors and we are expecting an even stronger second half." Chief Operating Officer of Qatar Tourism Berthold Trenkel said.
Currently, over 95 countries are eligible for visa-free entry into Qatar, and a free transit visa for 96 hours is being reactivated, according to Trenkel. 
"To accommodate all of this, we are expecting 50 hotels to open by the end of the year alone." Trenkel said.
According to Trenkel, several new attractions are such as the newly opened Place Vendome, which would attract visitors.
"But, it is with no doubt that this year is a legacy year for Qatar. We're excited to have the eyes of the world on Qatar as it prepares to host the first-ever FIFA World Cup tournament in the Arab world and Middle East," he added.
He said, "Despite some tough circumstances, we are incredibly proud of our achievements over the last year. They truly demonstrate our resilience as a sector and our commitment to the tourism strategy for 2030." He said.