Qatar Takes Gold in World Parachuting Championships Quadruple Event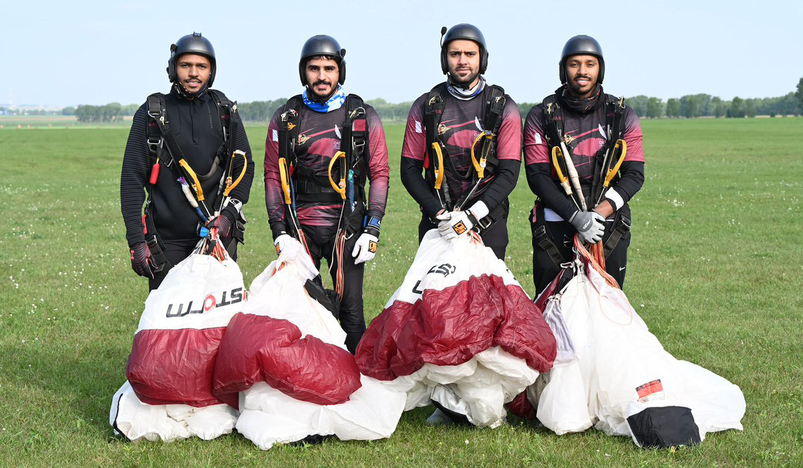 Qatari parachute jump team
QNA
The Qatari parachute jump team, affiliated to the Qatar Air Sports Committee in the Joint Special Forces, won the gold medal in the quadruple entanglement competition in the Parachute Jump World Championships, hosted by Russia in the Tanai region until the twenty-first of August, with the participation of 30 countries.
The Qatar Quadruple Interlocking Team achieved first place with 151 points, through Abdullah Hani, Saeed Al Kuwari, Hassan Al Malki, Ali Al Marri and Saleh Al Kuwari.
All eight rounds of the competition were carried out today, after it was scheduled to take place over the next two days, due to the expected bad weather tomorrow.
The Russian team won the silver medal and came in second place with 147 points, while the bronze medal was won by the Belarusian team in third place with 135 points.
Qatar also won the silver medal in the duo suncchel competition, where the Qatar team "Sconshell A" came in second place with 220 points, while the "France A" team won the first place with 243 points, the gold medal, and the "France B" team ranked first. Third and bronze with 194 points.
HE Major General Commander of the Joint Special Forces and Chairman of the Qatar Air Sports Committee, Hamad bin Abdullah Al Fetais Al Marri, said in press statements on this occasion that he dedicates this achievement to the wise leadership and the Qatari people.
HE pointed out that winning this gold medal for the first time in the history of the four-way entanglement with parachute "Rotation" is a great and important achievement, pointing out that we defeated the Russian team, expressing his thanks to the members of our team and wishing to achieve more in the upcoming tournaments.
For his part, Vice-Chairman of the Qatar Air Sports Committee, Abdullah Hamad Al-Athba, said: "We dedicate this achievement to the Qatari people. In this tournament, we have won three colorful gold, silver and bronze medals. The gold came for the four-way parachute entanglement team, and silver for the duos scouting team. Bronze for the Quadruple Cohesion Team.
Al-Athba added that this achievement is the result of a great effort for several years, and we have crowned this effort with gold, and this is the largest achievement recorded for Qatari sports, which is winning the gold in the World Championship.