Qatar Successfully Managed to Address "COVID-19" Challenges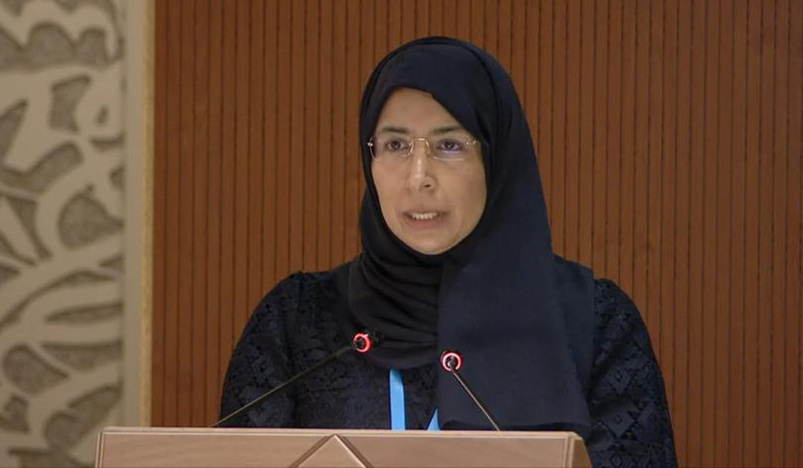 HE Minister of Public Health Dr. Hanan Mohammed Al Kuwari
HE Minister of Public Health Dr. Hanan Mohammed Al Kuwari, during her speech at the 75th World Health Assembly in Geneva stated that the State of Qatar, under the wise leadership of HH the Amir Sheikh Tamim bin Hamad Al-Thani, was able to address the challenges of COVID-19 successfully due to a comprehensive, whole government, whole society approach.
Her Excellency said that Qatar was able to protect the health of the population and the well-being of the economy from the devastating impacts of the pandemic through a balanced scientific approach to public health measures, facilitating a smooth and safe return to normal life.
Her Excellency said that the experience of the COVID-19 pandemic shows that health security is a joint responsibility and that global collaboration, sharing of data and solidarity are essential to ensuring our global health and wellbeing.
Dr. Al Kuwari acknowledged the enormous efforts that the World Health Organization has made in leading the global efforts to curb the COVID-19 since the start of the pandemic while also advancing health security, universal health coverage, and the agenda of the WHO general program of works.
Her Excellency Dr. Al Kuwari explained that during these difficult times, health systems must not be weakened or threatened, and that we must support each other to defeat this pandemic, prepare for the next public health challenge whether it will come from a communicable disease, the growing non-communicable disease threats, or man-made disasters such as wars and conflicts, and hence, this years theme Health for Peace, Peace for Health is timely.
HE Dr. Al Kuwari stressed that resilient health systems with a strong primary care foundation and skilled health care workforce are essential now more than ever, pointing out that the Qatar National Vision 2030 emphasizes the importance of health and education which has resulted in major investments in health. This has enabled Qatar to significantly expand its healthcare system, more than doubling the health service capacity. Qatar has also invested heavily in its skilled health workforce and in systems and disaster preparedness. It was this resilience and the dedication of Qatars talented health workers that enabled Qatar to have one of the lowest COVID-19 mortality rates in the world and allowed Qatar to contribute to the COVID -19 global scientific understanding through the publication of local data and findings in leading journals and publications.
Dr. Al Kuwari explained that the State of Qatar places great importance on global health security and universal health coverage in both its local policies and its international collaborations. In addition to support initiatives and programs for individual countries during the pandemic, the State of Qatar signed an agreement with the World Health Organization for a $10 million contribution to support the WHOs 13th program of works as well as the initiatives of speeding up access to essential supplies needed in the fight against COVID-19. This supplements previous donations to WHO and other organizations on COVID-19 aiming at ensuring that essential healthcare is not interrupted.
Her Excellency explained that Qatar has recently signed a partnership with WHO on Sport and Health with the involvement of FIFA. This aims at using the next FIFA World Cup in Qatar as an opportunity to promote physical and mental health, with the aim to build a legacy of knowledge and learning on safe and healthy mass sports gatherings to share with the countries that are planning to host similar events in the future.
To conclude, the Minister expressed her hope that people would be able to visit Qatar for the FIFA World Cup later this year. She said Qatar is a very welcoming country that is proud of sharing its culture with the world and expressed her hope that people can join in Doha and experience Qatars culture and hospitality.
(QNA)