Qatar Sends Medical Aid to Algeria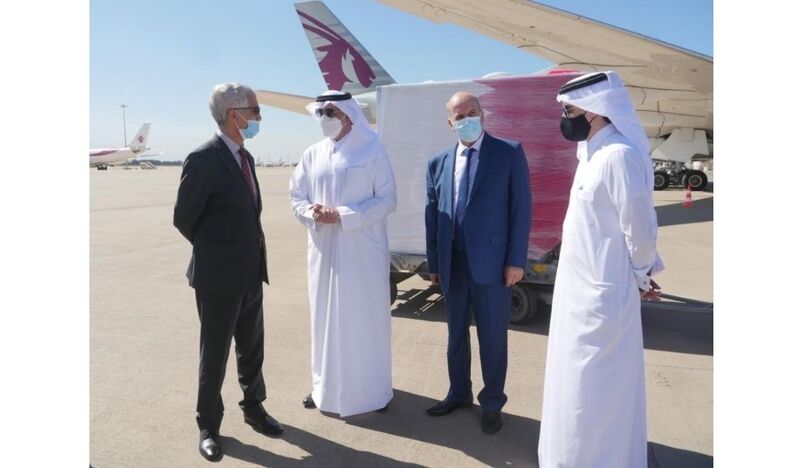 Qatar Sends Medical Aid to Algeria
The State of Qatar, represented by Qatar Fund for Development (QFFD), sent urgent medical aid to the People's Democratic Republic of Algeria to support its efforts in combating the outbreak of the coronavirus (COVID-19) pandemic.
The medical assistance shipment arrived in Algeria, loaded with 200 respirators produced and provided by Barzan Holdings, a subsidiary of the Ministry of Defense.
HE QFFD Director-General Khalifa bin Jassim Al Kuwari underlined that the medical aid provided by the State of Qatar to brotherly and friendly countries is an embodiment of solidarity and cooperation between brothers and friends, and it comes within the framework of the global efforts to combat the spread of the COVID-19 pandemic, based on the duty of the common international responsibility.
For his part, HE Ambassador of the State of Qatar to Algeria Abdulaziz bin Ali Al Naema highlighted the role of the State of Qatar in assisting brotherly and friendly countries since the beginning of the pandemic, in order to confront the repercussions of this pandemic and curb the spread of the disease.
HE the Ambassador affirmed the solidarity and continued cooperation between the two brotherly countries, and the deep and distinguished relations between them, noting that the leadership and the people of the State of Qatar stand by Algeria.
He added that the relations of the two countries are strong and well-established, and there is ongoing cooperation and coordination between the two countries on common issues, and that the wise leaderships of the two brotherly countries have the will to develop the cooperation and solidarity in all circumstances.
The State of Qatar had earlier sent, through QFFD, a shipment of medical assistance to Algeria contained 10 tons of aid. The State seeks through these efforts to extend a helping hand to brotherly and friendly countries and help them overcome the COVID-19 crisis that swept the world. (QNA)