Qatar Reviews Its Digital Transformation Policies at ITU PP-22 Conference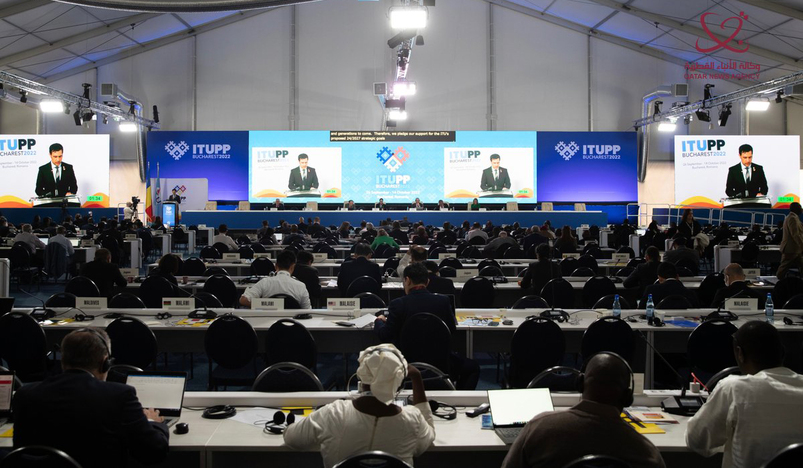 ITU PP-22 Conference
The State of Qatar, represented by the Communications Regulatory Authority (CRA), reviewed its general policy in the field of digital transformation and the advancement of information technology, during the International Telecommunication Union (ITU) Plenipotentiary Conference (PP), which continues in the Romanian capital Bucharest until October 14.
In a session dedicated to presenting the progress made by the ITU member states in digital transformation, Communications and IR Manager at CRA Hussain Salatt underlined that the State of Qatar attaches great importance to digital transformation within Qatar National Vision 2030 to build an advanced society; stressing Qatar's support for the strategic goals and objectives proposed by the ITU for the period 2024-2027.
He noted that the State of Qatar has achieved many accomplishments at the level of digital transformation and the use of information technology, especially in terms of providing a comprehensive coverage that has reached every home in the country along with the coverage of the 5G technology, adding that the percentage of individuals using the internet has approached 100%.
Within the framework of accelerating the digital transformation in the State of Qatar, Salatt noted that the Ministry of Communications and Information Technology has recently cooperated with an IT service provider to launch a training program to nearly 50.000 people by 2025 with advanced digital skills. This program is to stimulate innovation and contribute to enhancing the competitiveness of the State. In addition, an evaluation of the digital economy's ecological system is currently underway to improve the growth opportunities necessary for hydrocarbon-independent economic diversification.
Salatt added that the ICT sector will play a key role in Qatar's commitment to reduce carbon emissions by 20% by 2030, noting that although millions will visit Qatar in less than two months to attend the FIFA World Cup Qatar 2022, the use of advanced technologies will allow this tournament to be the first-ever carbon-free World Cup. In addition, a special technology has been developed to cool the air inside the stadiums to ensure the health and safety of all participants in the tournament.
He added that other key initiatives include the "Cloud First" policy for the State of Qatar, which will enhance the presence of international cloud service providers and their regional deployment, in addition to renewing the focus on protecting and securing advanced infrastructure from cyber attacks, through the establishment of an independent cybersecurity agency.
He stressed Qatar's commitment to work with the ITU and all member states to achieve individual and common goals, and to work together to set the digital agenda for the next four years.
The ITU Plenipotentiary Conference is held once every four years to develop the general policies of the Union, adopt strategic and financial plans for the next four years, elect the senior management team of the organization, the member states of the council, and the members of the Radio Regulations Board (RRB).
(QNA)