Qatar Residents can book FIFA World Cup Qatar 2022 Tickets for QR40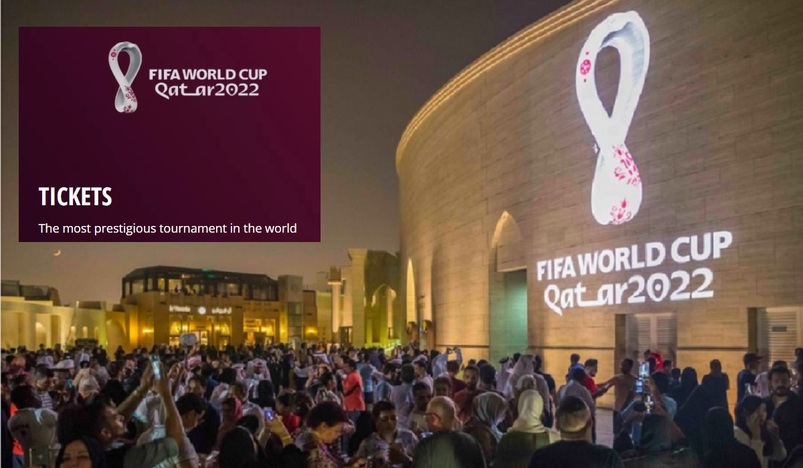 FIFA World Cup Qatar 2022 Ticket Sales
Starting today, fans of the FIFA World Cup Qatar 2022 can start registering to buy tickets with prices for Qatar residents starting at QR40.The sale will begin at 1pm.
The most prestigious football tournament in the world is scheduled to be held from November 21 to December 18 (Qatar National Day) later this year.
FIFA World Cup Qatar 2022 offers the cheapest tickets since the 1990 FIFA World Cup in Italy.
The ticket booking, which will need to be done via a ticket portal on the official https://www.fifa.com/tickets website, shall remain open till 1pm on February 8, 2022.
During this one month window, tickets would be available to buy on a first-come first-served basis prior to the FIFA World Cup Qatar 2022 final draw which will be done on April 1, 2022.
The first phase includes one million tickets (1/3rd of the total 3 million tickets that will be available for 64 matches of 2022 World Cup).
Qatar residents do not have to pay at the time of booking the tickets between January 19 and February 19, 2022. And,in case if the demand for tickets exceeds the allotted number then a random selection draw will be held and fans will be informed on March 8, 2022 after which they can pay and claim the tickets.
Fans can buy up to 60 tickets each (maximum 6 tickets per match). This would be for a family with one member being the main ticket holder.
Terms and Conditions:
Tickets would be available for fans in different options like following a team in the group stage where they can choose from four stadiums at one time in a day.
They have options like buying individual match tickets, team specific tickets, four stadiums ticket series, and accessibility tickets.
Qatar residents can buy tickets with their QID and for their families. These tickets cannot be passed on and can only be re-sold or returned to FIFA if a buyer so desires for them to be re-sold officially.
Meanwhile, ticket bookings for overseas fans would also begin on Wednesday with different prices and accommodation booking options on the FIFA website.
More ticket-booking phases would be announced later. The last-minute ticket sales for World Cup 2022 would be done in December.
Ticket Prices
All tickets will be sold in Qatari riyal (QAR) to both residents of Qatar and international fans.
All ticket prices apply to both adults and children, regardless of the age of the child.
For the full list of prices, click here.
Ticket Categories
There will be 4 ticket categories:
Ticket categories 1, 2 and 3 are available to all fans. 
Category 4 is for Qatar residents only where tickets start at just 40QR.
Please note that ticket category 4 is only reserved for Qatar residents* (for all online sales, at the time of the order, each ticket applicant must provide the domestic address of their residence in Qatar as well as their QID number).
*Qatar residents refers to any individual legally residing on a permanent or temporary basis in Qatar, including Qatari citizens and citizens from other countries (with such foreign citizens to include, inter alia, individuals who legally work in Qatar). 
Accessibility Tickets correspond to a dedicated allocation of tickets for disabled people and people with limited mobility. If you apply for Accessibility Tickets, you will be required to provide proof of eligibility as part of the ticket application process. Such proof of eligibility must be provided upon ticket collection (if applicable) and, upon request, at the entrance to the stadium.
FIFA advised the public to be courteous to other fans and only apply for these tickets if you truly require them. They are limited in number due to stadium configuration.
If, at any time, FIFA Ticketing becomes aware of a misrepresentation or circumvention of the sales process, all of your ticket applications may be rejected and/or your tickets cancelled in accordance with the Ticket Terms of Sale.
For further ticketing information and updates on the FIFA World Cup Qatar 2022™, please visit FIFA.com/tickets regularly.