Qatar Renews Commitment to Work with International Community for Total Elimination of Nuclear Weapon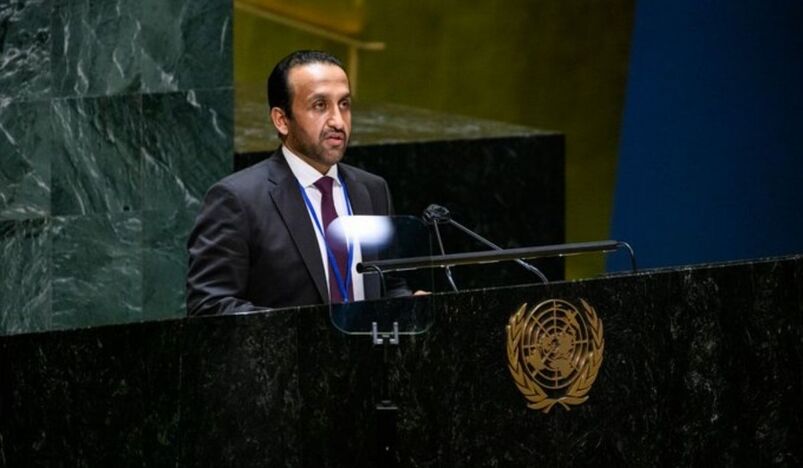 Qatar Renews Commitment to Work with International Community for Total Elimination of Nuclear Weapons
The State of Qatar renewed its commitment to working with the international community for total elimination of nuclear weapons, and regional and international peace and security, stressing the importance of strict and full commitment to all pledges and implementation of legal obligations arising from international agreements in the field of nuclear disarmament and the Non-Proliferation of Nuclear Weapons.
This came in a statement made by HE Director of the International Organizations Department at the Ministry of Foreign Affairs Yousef Sultan Laram at the high-level plenary meeting of the General Assembly to commemorate and promote the International Day for the Total Elimination of Nuclear Weapons, held on the sidelines of its 76th session.
The State of Qatar's statement affirmed the importance of responsible development of peaceful nuclear energy programs and adherence to comprehensive safeguards measures in cooperation with the International Atomic Energy Agency (IAEA) in order to ensure the highest standards of safety and security in a world where nuclear proliferation is a source of great concern and threaten future generations.
The proliferation of nuclear weapons in the Middle East is an additional dimension of the current challenges faced by the region, the statement said.
Clearing the region of nuclear weapons and other weapons of mass destruction can contribute significantly to achieving regional and international desired stability, the statement said, referring to the resolution issued by the 1995 Review and Extension Conference of the Parties to the Treaty on the Non-Proliferation of Nuclear Weapons, which considered freeing the Middle East region of nuclear weapons as one of the essential pillars.
The statement also renewed the State of Qatar's support for holding the Second Session of the Conference on the Establishment of a Middle East Zone Free of Nuclear Weapons and Other Weapons of Mass Destruction, pointing out that holding the Conference had been postponed to the last quarter of this year due to Covid-19 circumstances and measures.
The statement expressed the aspiration of the State of Qatar for the cooperation and contribution of all countries in the region in achieving this goal in the service of their peoples and in a way that enhances international peace and security.
The statement renewed the State of Qatar's commitment to continue working with the international community for the total elimination of nuclear weapons, in order to achieve regional and international peace and security. (QNA)