Qatar Reiterates Firm Position in Support of Palestinian Cause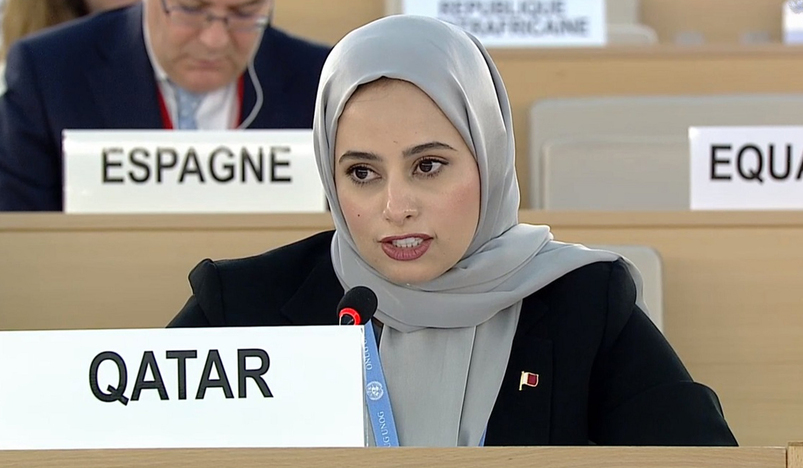 Image: QNA
The State of Qatar reiterated its firm position in support of the Palestinian people until they retake all their legitimate rights and establish their independent and fully sovereign state based on the 1967 borders, with Al-Quds Al-Sharif as its capital.
The State of Qatar stressed that the failure to implement the main recommendations related to the main causes of tensions, instability, and prolongation of the conflict is the main reason for the systematic recurrence of violations in Palestine, and encourages the Israeli occupation to continue committing more massive violations of international charters, laws, and resolutions.
This came in the statement of the State of Qatar delivered by Acting Charges d'Affaires of the State of Qatar's Permanent Delegation to Geneva Jawhara Al Suwaidi before the 50th session of the Human Rights Council, during the interactive dialogue with the United Nations Independent International Commission of Inquiry on the Occupied Palestinian Territory, including East Jerusalem, and in Israel.
The statement of the State of Qatar stressed the need to stop double standards and called on the international community to take all necessary measures to end the Israeli occupation of the occupied Palestinian and Arab lands, lift the siege imposed on the Gaza Strip, stop attacks and aggression against the Palestinian people, end Israeli settlement and racist policies and practices. It underlined the need to end forced displacement and home demolitions, all attempts to change the identity of the holy city of Jerusalem, its historical and legal status, and ensure accountability for all Israeli officials for violations committed against the Palestinian people.
Also, the statement denounced the failure of the Israeli occupation authorities to cooperate with the committee to enable it to fulfill its mandate.
Source: QNA