Qatar Rail Holds Town Hall as Part of FIFA World Cup Qatar 2022 Final Preparations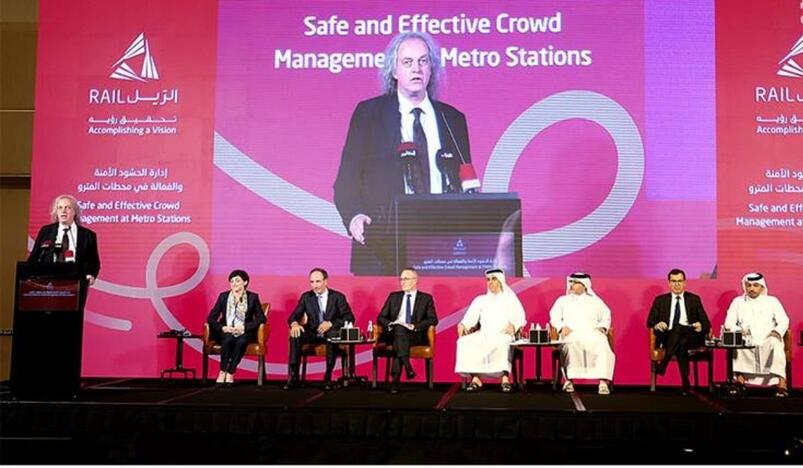 Qatar Rail Holds Town Hall as Part of FIFA World Cup Qatar 2022 Final Preparations
As part of its preparations for the World Cup 2022, Qatar Railways Company (Qatar Rail) held its second town hall & stakeholders meeting under the theme of "Safe and Effective Crowd Management at Metro stations."
The town hall was attended by HE Minister of Municipality, Managing Director and CEO of Qatar Rail Dr. Abdulla bin Abdulaziz bin Turki Al Subaie, Supreme Committee Director-General Eng. Yasir Jamal, Acting Assistant Undersecretary of Land Transport Affairs at the Ministry of Transport Eng. Hamad Isa Abdulla, and Director of transportation Security Department at Ministry of Interior Lieutenant Colonel Salem Al Naimi.
This town hall meeting is one of a series of staff and management town halls and workshops held under Qatar Rail readiness program for the World Cup 2022, as Doha Metro will play an instrumental role in the tournament transport connecting fans and visitors to stadia and key destinations in Qatar.
HE Minister of Municipality said: "This meeting comes as we are less than two months away from the start of the World Cup 2022. Qatar Rail is on track with its readiness and preparations for this event, as the Doha Metro is a key component in the integrated transport plan for this global event hosted by the State of Qatar".
He noted that the Doha Metro started operations in 2019, highlighting that the state-of-the-art driverless system was specifically designed and built to handle large numbers of passengers, and to handle major events.
"Hosting any major event requires coordination across a broad and complex landscape of stakeholders. Crowd management is the key success for a safe and smooth travel experience, and this cannot be achieved without the close coordination, joint efforts and the support of our stakeholders," he added.
RKH is responsible for operating and maintaining Doha Metro and Tram Lusail networks, the company works hand in hand with Qatar Rail to ensure safe and effective crowd management at the stations and ensuring the delivery of a seamless and a safe travel experience during the World Cup 2022.
In July 2022, Qatar Rail organized its first town hall staff, stakeholders, and consultants meeting, under the theme of "Transport Management for Mega Events", which included several sessions on the readiness of Doha Metro services for major events, and the main challenges of hosting the upcoming World Cup Qatar 2022.
Source: QNA